India's business culture is improving day by day. People of India are now focusing on building businesses more than securing a position in a government job. Television shows such as Shark Tank India, are inspiring the youth to beat their comfort zone and choose the career of their dream. For young India, I have filtered a list of Top Business Leaders in India that will inspire you for sure.
Read this write-up till the end and live the inspiring journey of these Top Business Leaders in India.
Top 12 Business Leaders in India 2023
No doubt Sir Ratan Tata and Mukesh Ambani are the greatest business leaders in India, and they have done a lot of things to make India proud, and most of us know their story of struggle and greatness. Here I am sharing a list of Top Business Leaders in India other than these legendary business tycoons.
You must have heard the name of these entrepreneurs, these are some of many entrepreneurs who broke their comfort zone and worked hard to build their businesses at this level. If you are interested in business, then you must have known many of them. Peyush Bansal, Vineeta Singh, Namita Thapar, Anupam Mittal, Amit Jain, Aman Gupta, and Ghazal Alagh have been seen on TV in the business investment show Shark Tank India.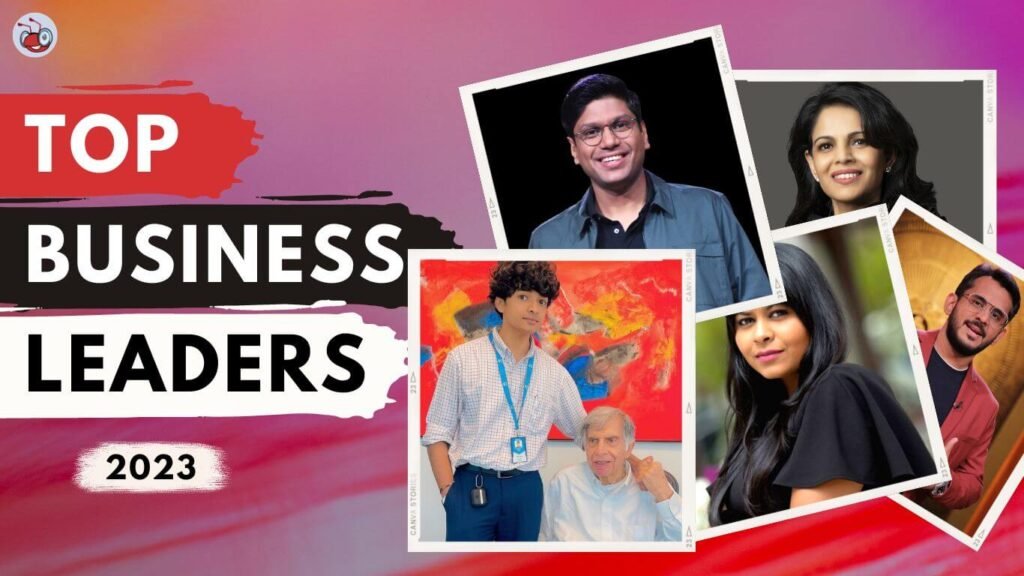 From this list, the youngest entrepreneur is Shantanu Naidu. He is just 30 years old and he has some unique startups such as GoodFellows. He is also known as the assistant of Sir Ratan Tata.
Kanika Tekriwal is no less than a superwoman. Kanika had to face many challenges in setting up her business, apart from this, Kanika Tekriwal also had to face a battle with cancer.
When she was in the very initial face of her business, she got to know that she had cancer, and doctors said that Kanika does not have a very long life ahead, but the young blood and mostly the idea of starting a business made Kanika survive after a long battle with cancer.
Kanika undergo 12 sessions of Chemotherapy in just one year and ultimately Kanika Tekriwal Cancer went away and she became absolutely wealthy just because of her power of determination. You must read her story to get inspiration about dedication toward your end goal.
Ranvir Allahbadia aka BeerBiceps needs no introduction these days. Ranveer's transformational journey from a broken boy to a source of inspiration for the youth of India says everything about his contribution towards the development of Indian youth.
Conclusion
I have shared a list of top business leaders in India, and each of them has a story to inspire young entrepreneurs. All you have to do is click on the link given in the list to read the story of these business tycoons. We will also keep updating the list for you so that the stories of inspiration never end.
India needs more entrepreneurs, and we, the young people of India, take this responsibility to represent India globally. I have started my journey, Have You?