Females are often obsessed with beauty brands. One such female soul who turned her obsession into an opportunity, Falguni Nayar is the subject of our write-up. She is India's most self-made wealthiest female billionaire person, so we can consider her as a live example of beauty with a brain personality.
We are sharing Falguni Nayar biography with the purpose to introduce her willingness to every woman who wants to do something to make themself proud. Despite being so comfortable she left the investment banking job just for the thing she wants to achieve for herself and put the milestone of Nykaa.
Falguni Nayar Biography
Falguni Nayar is the founder and CEO of the well-known brand for beauty and fashion, Nykaa. Falguni Nayar age is 59 years (2022) and more about her (Falguni Nayar Biography) is explained in the absolutely simplest language.
Before going into the depth of Falguni Nayar Biography here we provided collected data about her.
| | |
| --- | --- |
| Full Name | Falguni Nayar |
| Husband Name | Sanjay Nayar |
| Children Name | Son– Anchit Nayar, Daughter– Adwaita Nayar |
| Parents | Father– Not Available, Mother– Not Available |
| Profession | Business |
| Position | Founder and CEO of Nykaa |
| Qualifications | B.Com, PG Diploma in Management |
| School | The New Era School |
| College Name | Sydenham College of Commerce & Economics Indian Institute of Management (IIM), Ahmedabad |
| Date of Birth | 19 February 1963 |
| Age | 59 Years |
| Marriage Date | May 1987 |
| Awards, Honors, Achievements | FICCI Ladies Organization (FLO) Award FICCI Ladies Organization (FLO) AwardWoman Ahead Award: The Economic Times Start-Up Awards 2017 |
| Net Worth | $6.5 billion |
| Website | nykaa.com |
Falguni Nayar Family
Falguni Nayar was born on 19 February 1963 in a Gujrati family. Later she was brought to Mumbai. Falguni Nayar's father and mother's names are not available now but there is quite some information we gathered that her father was used to run a small bearing business and her mother also helped her father in the business.
While studying at IIM she met her better half and get married in 1987. Falguni Nayar's husband Sanjay Nayar works at Global Private Equity Giant KKR as the India Chairman.
In 1990 she gave birth to twins a boy and a girl. Falguni Nayar's son name is Anchit Nayar, and Falguni Nayar daughter's name is Adwaita Nayar. Now the whole family togetherly runs Nykaa. Falguni Nayar's son studied at Columbia University and Falguni Nayar's daughter graduated from the Harward Business School. At the time I am writing this write-up Falguni Nayar's age is 59 years.
Falguni Nayar Education Qualifications
She did her education at The New Era School. She graduated from Sydenham College of Commerce and Economics in 1983 and postgraduate (MBA) from the Indian Institute of Management (IIM) Ahmedabad in 1985.
With the completion of the MBA, this beauty with a brain personality put her first step toward her career. Let's see How much experience has she gained before becoming a prominent Indian businesswoman?
Falguni Nayar Career
In May 1985 Falguni joined A F Ferguson & Co as a manager and work for the same for about 8 years and 8 months and left the company in December 1993.
In 1994 she went to the UK and worked at many posts in London and New York City areas.
In 2001 she came back to India and worked as Director and Head of Institutional Equities Business for about 6 years.
After this, in 2001 she joined Kotak Mahindra Bank and worked here for about 17 years and 4 months.in Kotak Mahindra Bank she worked on various stages. Last 4 years and 4 months she was the Managing Director of Kotak Investment Banking and exit herself from investment banking in March 2012.
Although she left the perfect or ideal life at the age of 50 and jumped into the area of entrepreneurship. And started "Naykaa" in the year 2012.
Now we will discuss thoroughly How Falguni build India's leading beauty brand at the age of 50? The Nykaa Fashion.
Nykaa
Nykaa was founded by Falguni Nayar in April 2012 with the clear intention to make it a multi-purpose brand, but still, the main focus was always beauty, make-up, and fashion. she made her dream true today by building a beauty and fashion empire with a portfolio of more than 2400 brands. The offline stores of Nykaa are present in more than 68 cities across India.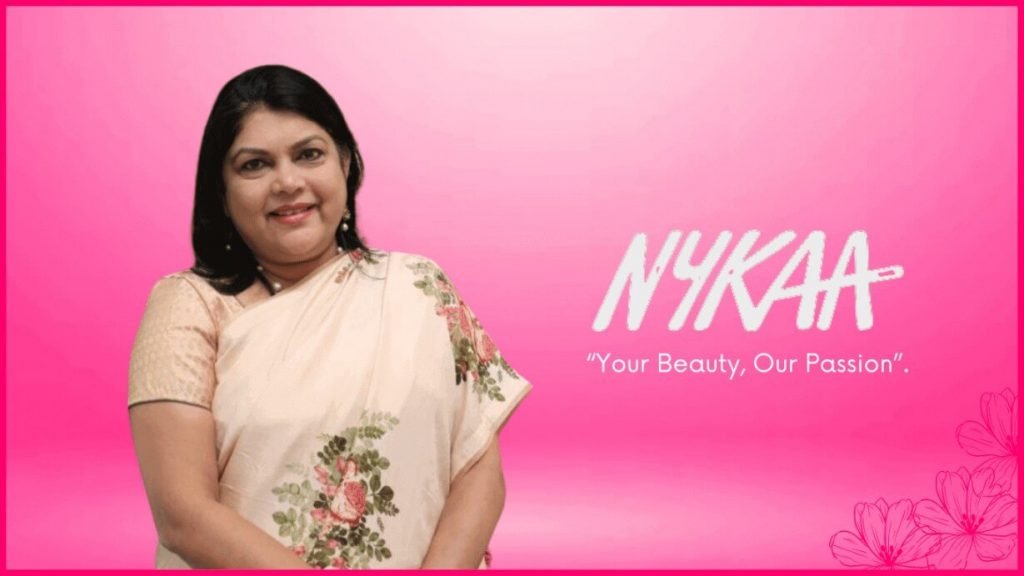 The term Naykaa has its own meaning, it is taken from the Sanskrit word "Nayika" which means heroine. So the Nykaa fashion especially indicates to the female consumers. The parent company of Nykaa is FSN E-Commerce Ventures Nykaa Ltd.
Let's visit one by one information about Nykaa.
Categories
Nykaa serves a vast range of category products, some of which are mentioned below.
Makeup
Skin
Hair
Personal Care
Appliances
Mom and Baby
Wellness
Fragrance
Natura
Luxe
Clothing
Bags
Accessories
Lingeries
Brands
Nykaa is India's biggest e-commerce beauty-focused retail business. On the website of Nykaa, you can buy more than 2400 brands' products. The main categories are already shared above.
Website
If you want to experience Nykaa then go to nykaa.com visit the website and experience their services. The User Interphase or UI of the website is fabulous and attractive. You can find the product of your need very easily.
Tagline
The tagline of Nykaa is "Your Beauty, Our Passion".
Brand Ambassador
The parent company of Nykaa is FSN E-Commerce Ventures Nykaa Ltd. has announced the brand ambassador of Nykaa is Janvi Kapoor through an ad film.
Falguni Nayar's Net Worth
Falguni Nayar's age is 59 years and she is the founder of Nykaa, the revenue of Naykaa in FY22 is about 22 billion dollars. If we talk about Falguni Nayar's net worth then the estimated amount is about $6.5 Billion and 49,000 crores in INR.
Falguni Nayar Awards
Wherever Falguni worked she gathered accolades for her performance. As she is India's leading businesswoman and entrepreneur, she has been awarded many honors. Here we are sharing the list of awards she received for her hard work and willpower.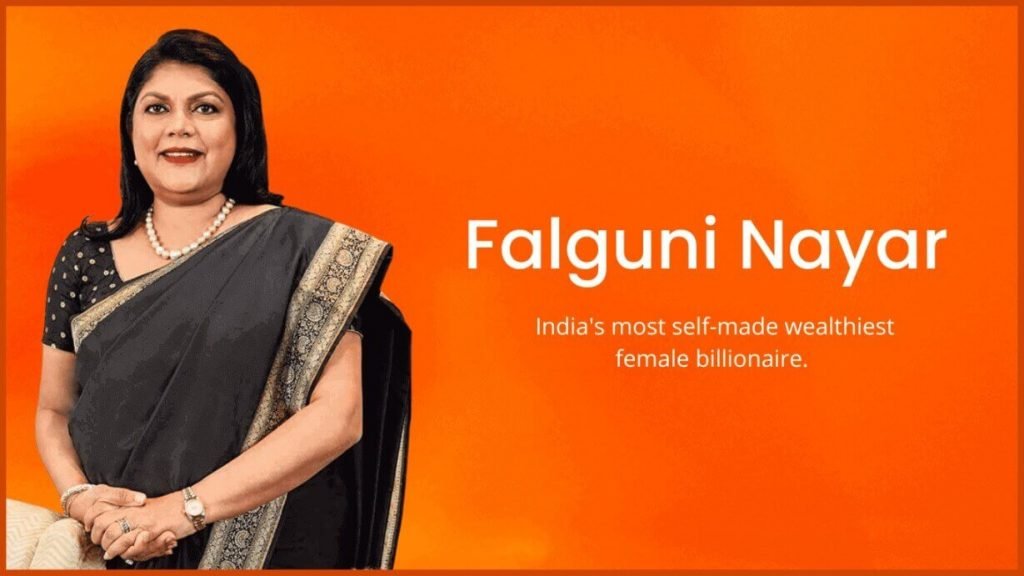 Woman Ahead Award at the Economic Times Startup Awards in 2017. 
Businesswoman of the Year at the Economic Times Awards for Corporate Excellence in 2019. This award was given to Falguni for her legendary contribution to the Indian beauty and fashion industry.
Falguni's name also has been included as the Asia's Power Businesswomen 2019 by Forbes Asia.
She is also named the Businessperson of the Year 2019 by Vogue India.
She has been also awarded by EY Entrepreneur of The Year 2019 – Start-up Award by Ernst and Young.
Founder and CEO of Nykaa also named as the EY Entrepreneur of the Year 2021, at the 23rd edition of the EY Entrepreneur of The Year India awards. On 9 June 2022, she represented India at the EY World Entrepreneur of the Year Award (WEOY).
Other Facts About Falguni Nayar
Falguni Nayar is part of the list of the world's richest people and she is also India's wealthiest self-made female billionaire as well.
She has 2 children Anchit and Adwaita and they are twins.
Falguni also serves as a board member in various firms such as ACC Limited, Dabur India Limited, and Tata Motors Limited.
Final Words
After knowing her story all those females who want to achieve their goals get motivated. She is not only a successful businesswoman but a role model and inspiration to thousands of women in India.
Was her story inspiring for you or not, tell us by commenting your thoughts on Falguni Nayar's biography.
FAQs
What does Falguni Nayar husband do?
Falguni Nayar's husband Sanjay Nayar is the CEO of
Is Falguni Nayar from Kerala?
No, Falguni Nayar belongs to a Gujrati family and had married Sanjay Nayar Punjabi who belongs to a Punjabi family.