Women in India are now making their name in all fields including entrepreneurship as well. In this article, we are going to tell about one such woman entrepreneur, Vinita Singh is a Gujrati businesswoman, who is the CEO and Co-Founder of Sugar Cosmetics. Vinita Singh is an inspiration to women across the world. She is one of the Shark Tank India Judges.
Here we go with the Vineeta Singh Biography, where we shared the inspiring story of this young woman entrepreneur. Here you are going to know why Vineeta Singh quits 1 crore job. Why did she have to give up his first business idea? Why did she close his first business? And many more facts.
Vineeta Singh Biography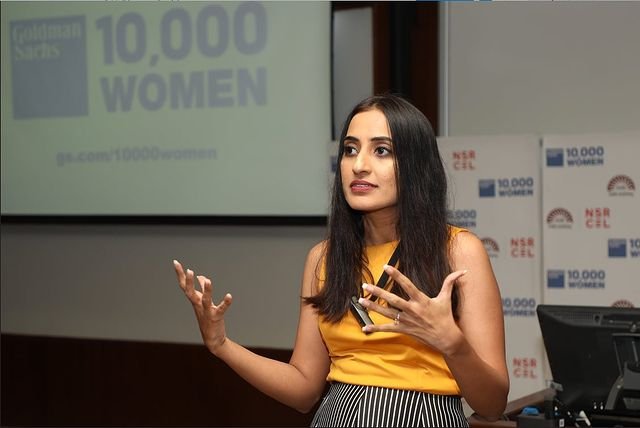 Sugar Cosmetics CEO Vineeta Singh was born in 1983 in a small town called Anand, Gujarat. She often lived with her grandmother (Nani) in Bhavnagar. Her father's name is Tej Singh and she was the only child of her parents. Both Vineeta's mother and father have Ph.D. Doctor. Her father got a chance in Delhi AIIMS and her mother got a chance in ICMR, due to which Vineeta was also brought to Delhi later. Vinita's father Mr. Tej Singh discovered several protein structures to make medicines to prevent cancer and other diseases.
| | |
| --- | --- |
| Full name | Vineeta Singh |
| Father's name | Tej Singh |
| Mother's name | Not Known |
| Birth | 1983 |
| Age | 40 years |
| Spouse | Kaushik Mukherjee |
| Kids | Ranveer and Vikrant |
| School name | Delhi Public School,Rama Krishna Puram(R.K. Puram) |
| College name | Indian Institute of Technology (IIT), MadrasIndian Institute of Management (IIM), Ahmedabad |
| Qualifications | B.Tech. and MBA |
| Profession | Entrepreneur |
| Business name | Sugar Cosmetics |
| Position | CEO and Co-Founder of SUGAR COSMETICS |
| Sugar Cosmetics Valuation | Rs 950 crore |
Vineeta Singh Educational Qualification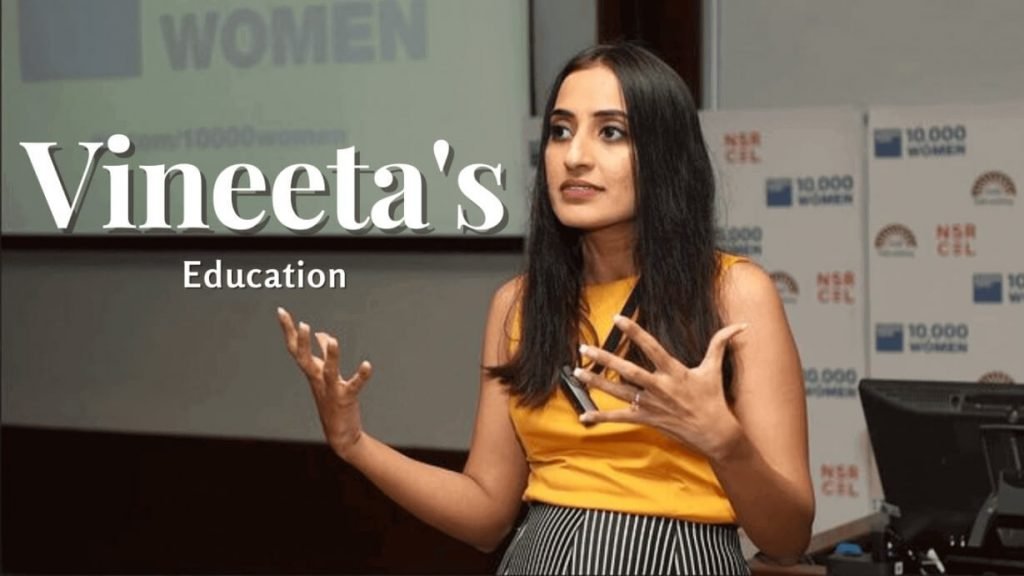 Vineeta completed her schooling at Delhi Public School and R.K. Puram (Radha Krishna Puram). Vineeta's parents were well-educated and she was brilliant too. She was very clear about her fantasies, which were IIT and IIM. She completed her B.Tech. in Electrical Engineering from the Indian Institute of Technology (IIT), Madras in the year 2005. After completing engineering, she attended the Indian Institute of Management (IIM), Ahmedabad, and completed her MBA in the year 2007. This means that she literally turned her fantasies into reality.
Vineeta Singh Quits 1 Crore Job Offer
Vinita Singh got a job offer from a very high-profile Investment Bank with a salary of 1 crore per annum while she was studying at IIM. She declined the offer as she had already made up her mind that she would start her own company. It was absolutely a bold decision that Vineeta Singh quits 1 crore job offer.
Reason BehindRejecting Offer From Investment Bank
It was her belief that she always chooses those things in which she is sure that she'll definitely succeed. To break this chain of her assured success, she decided to do something uncertain, so she declined the job offer from the investment bank and decided to form her own start-up.
How Vineeta Singh Started SUGAR Cosmetics
Before SUGAR Cosmetics Vineeta started 2 companies: Quetzal and Fab bag.
Quetzal
Vineeta was just 23 when she decided to get down to business. She started a company named Quetzal, Through which they provide background verification services to recruiters. Quetzal was started in 2007. Initially, it was very difficult as she came straight from 1Cr to 10k but she kept working on it and made it profitable. Vineeta realized that there is a profit in this company but it will not be scaled very quickly, so she decided to quit Quetzal after 5 years of hard work in 2012.
Fab Bag
After leaving Quetzal, Vinita Singh started a subscription-based company called FAB BAG with her life partner Kaushik Mukherjee. fabbag.com was started in 2012. It is India's largest subscription company in the beauty market that provides various offers and opportunities to try out global brands every month.
Their products are completely related to beauty and makeup. Vinita Singh has managed to build a base of 16000 monthly paying subscribers and a community of 2 lakh women. She took reviews from their customers and collected huge data from their consumers.
Most of them said that the products which are already available in the market are not suitable for Indian skin complexion. So Sugar Cosmetics CEO Vineeta Singh has decided to create something that will satisfy Indian young women. But growing this business in India was also difficult because at that time customers were not ready to buy beauty and makeup products online.
So she decided to pivot from fab bag to Sugar cosmetics with a lot of experience of the Indian market and the demand of Indian young women.
SUGAR COSMETICS
In 2015, Vineeta Singh started SUGAR Cosmetics with her husband Kaushik Mukherjee. This D2C company especially targets Indian young women as consumers. But at that time Sugar cosmetics did not have enough funds to import their first consignment of lipsticks manufactured in Germany.
In 2017, Sugar Cosmetics got a fund from series A. The investing companies were India Quotient and Initially, it was a completely online platform, later they set up their own retail outlets. Their retail presence was 60% and 40% of sales were online. Their online sales were 70- 80% and retail sales 20-30% after the pandemic.
The reason for the success of Sugar Without Marketing is that the founders did not compromise on the quality of the product. And that is how Sugar Cosmetics CEO and Founder Vineeta Singh built up her brand along with her husband Kaushik Mukherjee.
Do You Know: Sugar Cosmetics Vs Lakme – Which Is BEST For You In 2023
VIneeta Singh Net Worth
At present, Sugar Cosmetics has over 35000 outlets across 550 cities in India. Sugar Cosmetics has manufacturing units in India, Germany, Italy, Korea, and the U.S.
In 2020-21, Sugar Cosmetics achieved Rs 130 crore in revenue and raised $21 million (Rs 156 crore) in venture funding. As of 2023, Sugar Cosmetics valuation is around Rs. 950 Crore. And Vineeta Singh net worth is about Rs. 75 Crore.
Other Facts About Vineeta Singh
When Vinita was 10 years old, she sold a magazine door-to-door with her best friend. That magazine is worth 3 rupees.
She is a Marathoner and an Ultra Marathoner also. She has run more than 14 marathons. The Iron Triathlon is a long-distance race held by The World Triathlon Corporation (WTC). This race consists of 3.86 km of swimming, 180.25 km of bicycle riding, and 42.20 km of running. Vinita has also participated in this race. She has also participated in the 89 km Marathon 3 times in South Africa and has also won a bronze medal once.
When she was in IIM, she had also planned a business for the online sale of women's lingerie with her classmates, but she had to drop the idea due to a lack of investment.
The flagship product of Sugar Cosmetics is Scarlett O'Hara Lipstick.
When Vineeta Singh started SUGAR Cosmetics, she was pregnant at that time.
Forbes India had released its Women Power List 2021 in which Sugar Cosmetics CEO Vineeta Singh's name was also included.
Vineeta Singh and Kaushik Mukherjee decided Kickass Cosmetics name for their brand but later Sugar Cosmetics got finalized.
Vineeta Singh Award
Vinita Singh has been honored with The Economic Times 40 Under Forty Award 2020. She got this award for being India's Youngest Business Leader.
Vineeta Singh In Shark Tank India 2023
Sugar Cosmetics CEO and Founder Vineeta Singh, is one of the Shark Tank India Judges 2023 as a Shark, Where she shares her experiences with the new entrepreneurs of India and invests in their businesses.
No doubt Vineeta Singh is an inspiration for many women entrepreneurs in India. Vineeta Singh has set the perfect example of how can you step out of your comfort zone and do something that no one can expect from you.
How do you like Sugar Cosmetics CEO and Founder Millionaire Vineeta Singh Biography? Let us know. Stay with us for more inspiring stories.
FAQs
Is Vineeta Singh Gujrati?
Vineeta Singh is a Gujrati businesswoman, who is the CEO and Co-Founder of Sugar Cosmetics.
Who is the CEO of Sugar Cosmetics?
Sugar Cosmetics CEO is Vineeta Singh.
Why did Vineeta Singh quit a 1 crore job?
Vineeta declined the 1 Crore job offer as she had already made up her mind that she would start her own company.