The future of the Indian economy seems to be in good hands as we can see new businesses doing very well. Most of the young Indians are looking for startups instead of finding a job.
In today's write-up, we are going to share the story of a young entrepreneur who has built a brand from scratch in just 5 years. Who is this man? That is Aman Gupta, the Co-Founder of boAt. So, welcome to Aman Gupta Biography.
Who Is Aman Gupta?
Aman Gupta is an Indian entrepreneur. Who is the Co-Founder and Cheif Marketing Officer of boAt. boAt is an Indian audio equipment company that manufactures headphones, speakers, and wearables. boAt has become India's number 1 audio equipment company with 27% market share. In this Aman Gupta Biography, Let's understand how hard it was for him to reach this level. He is also one of the Shark Tank India Judges 2021.
Name
Aman Gupta
Father
Neeraj Gupta
Mother
Jyoti Kochar Gupta
Known For
Co-Founder And CMO of boAt
Age
40 Years
Birth Year
1982
Profession
Entrepreneur
Hometown
Delhi, India
Net Worth
$95 Million
Salary
40 Crore/Year
Marital Status
Married
Wife
Priya Dagar
Children
Ada Gupta, Mia Gupta
Brother
Anmol Gupta
School
Delhi Public School, RK Puram
College
Delhi University
Institute of Chartered Accountants of India
Indian School of Business
Kellogg Graduate School
Instagram
boatxaman
Aman Gupta Biography
Aman Gupta is originally from Delhi, he completed his schooling at Delhi Public School. After completing school he took admission at Delhi University and completed his bachelor's degree in commerce in 2001.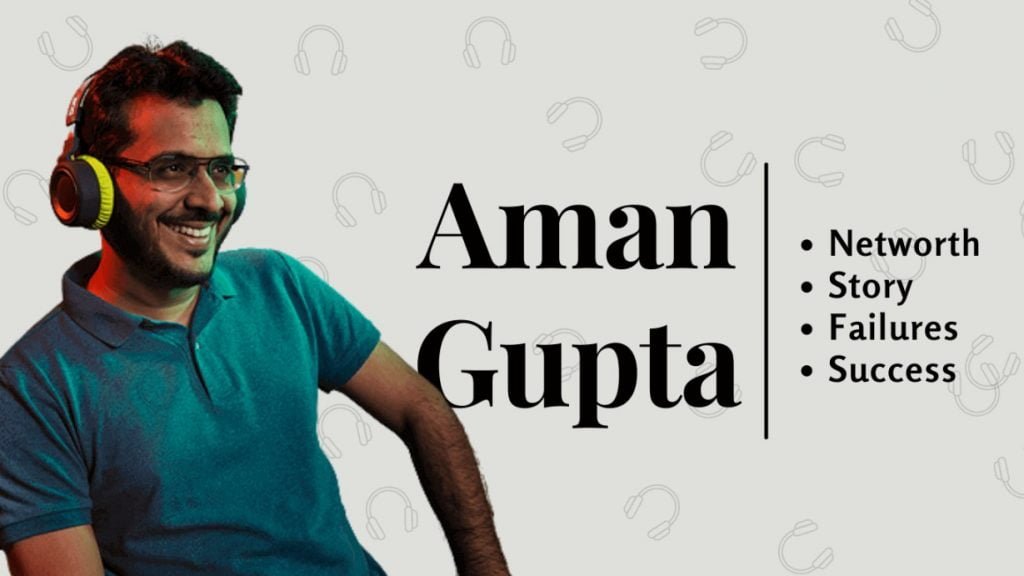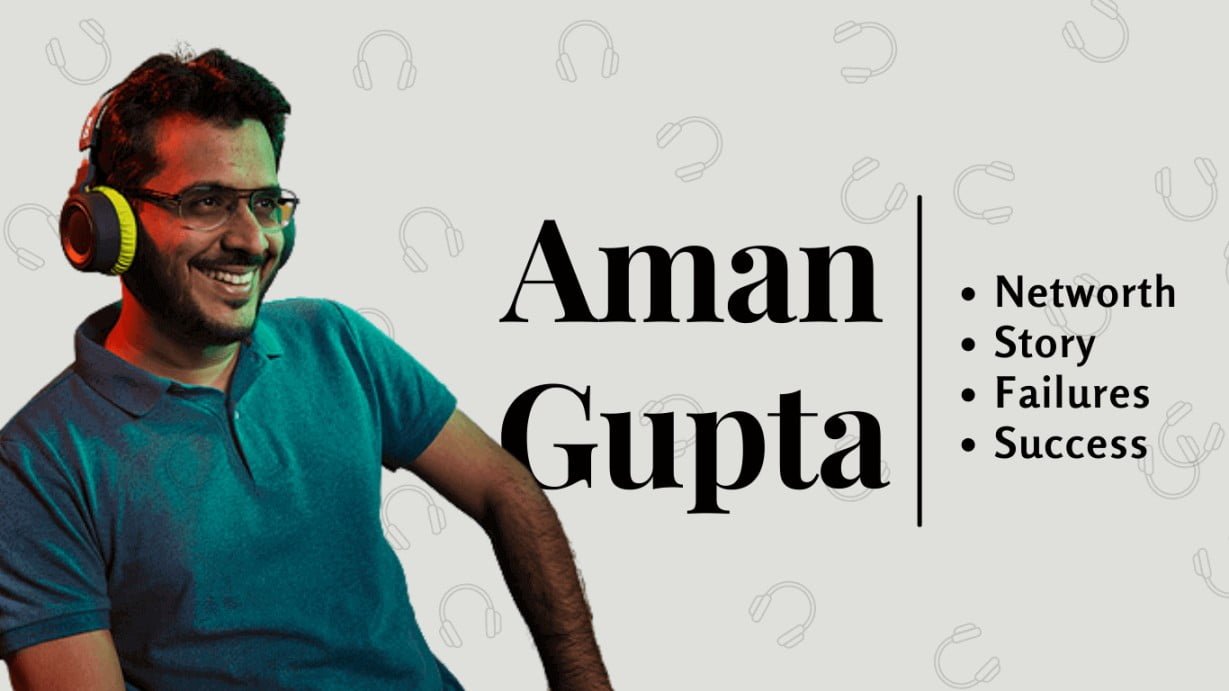 In an interview, Aman said that there are many CAs in his family so his father decided to make him a CA, he agreed with his father and started pursuing CA. He completed his charted accountant study from the Institute of Charted Accountants of India in 2002.
While studying CA, he did not find it interesting, so he got bored with it. But he did not give up on CA and decided to complete it. He cleared CA very soon, he was one of the youngest CAs in India at that time. After completing CA he went to his father and said let me do my thing, I can't go with CA anymore.
After that Gupta got the job and after 2 years of job, he again got bored with the job and left the job. After leaving his job he was thinking of starting a business. So Aman and his father have decided to start a business.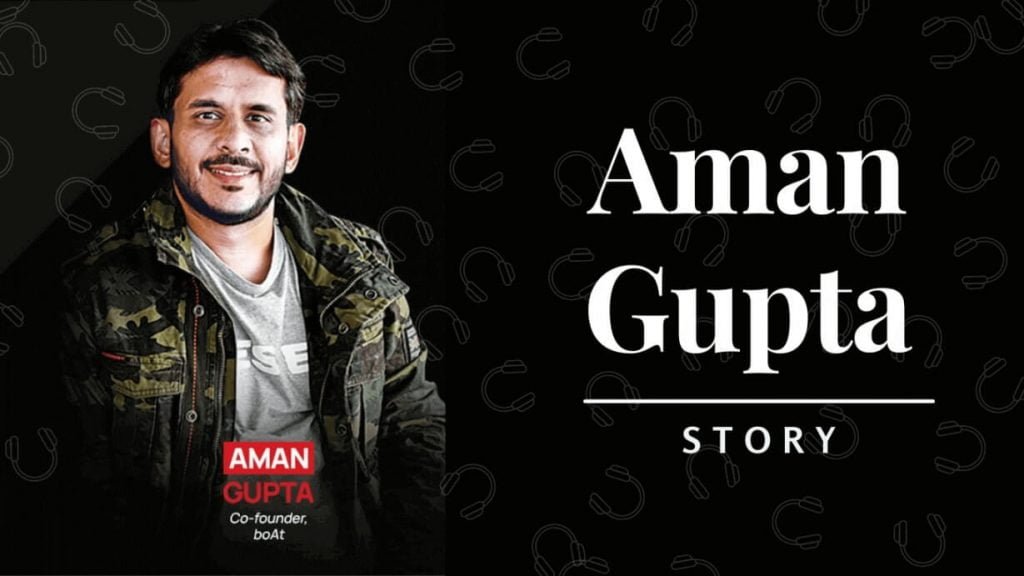 Aman and his father started a business they worked for a brand whose products they were selling in India. After 5 years of business that brand officially came to India and opened an office in India.
After that Aman got bored again and was trying to figure out something else that would give him KICK. Aman's wife Priya suggests him to do MBA as he could afford it.
Aman was not able to find his passion, He again joined a company called Harman International, he was sales director there and again same story. He left the job in December 2013
Aman Gupta and Sameer Mehta started BOAT in 2016. They did deep research for Indian consumers and designed products for the Indian youth. boAt created different products, different marketing strategies, they focused on the mantra "neither too cheap nor too expensive". Because the founders know that the very expensive things don't work in India and the very cheap ones also get beaten up. So they combined affordability and quality and the youth started loving boAt's products.
Aman Gupta Career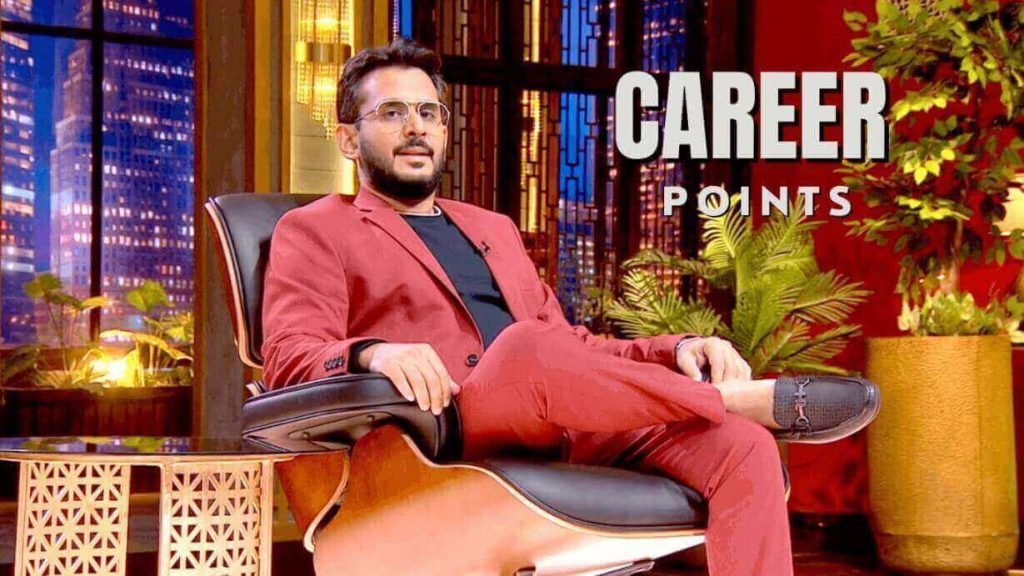 Here we have shared Aman Gupta Biography/Story. Now let's have a look at Aman Gupta Career. How he goes from here to there:
1998 – Completed Schooling From Delhi Public School
2001 – Graduated from Delhi University
2002 – Completed CA study from Institute of Charted Accountants of India
March 2003 to August 2005 – Assistant Manager at Citi in New Delhi
Sept. 2005 to March 2010 – CEO & Co-Founder at Advanced Telemedia PVT LTD
June 2011 to Feb 2012 – Senior Management Consultant at KPMG in Gurgaon
March 2012 to Dec 2013 – Sales Director at Harman International
2016 – Co-Founder at boAt
June 2020 – Chairman D2C council at Internet And Mobile Association of India.
3 Feb 2021 – Featured In BW Disrupt 40 Under 40 Awards
18 Nov 2021 – Selected as one of the Sharks in Shark Tank India show.
Aman Gupta Networth
According to the research, The Co-Founder and CMO of boAt Aman Gupta net worth of $95 Million in 2021.
BOAt was established in 2016 and in just 5 years it has become the first choice of every youth. boAt has changed the mindset of the Indian consumer by providing affordable, stylish audio equipment. BoAt has already served more than 20 million users.
Aman Gupta Salary
According to reports, the annual salary of BoAt founder Aman Gupta is around 40 Crore Rupees that is 3.33 Crore Rupees per month.
If we talk about Aman's other sources of income, he has invested in many other new startups and companies that are not disclosed till now.
Aman Gupta Family
Aman Gupta's father's name is Neeraj Gupta and his mother's name is Jyoti Kochar Gupta and his brother's name is Anmol Gupta. Aman got married in 2008, his wife's name is Priya Dagar. He is blessed with two daughters Mia and Ada Gupta.
Aman Gupta In Shark Tank India
Aman is selected as one of the Sharks in the Indian television business show The Shark Tank India that is telecasting on Sony Entertainment Television. As of the time this article is being written, Aman has invested over Rs 5.6 crore in startups on The Shark Tank Show.
Final Words
Aman is really one of the inspirational people, as an entrepreneur, you can learn a lot from him. He has built India's number one headphone brand in just five years. When he entered this industry, there were 200 brands were already there as his competitors. He didn't just get a place in the industry, he made boAt one of the biggest brands in India.
Did you learn anything from Aman Gupta Biography? Let us know in the comment section.
FAQs
Who is Aman Gupta in Shark Tank India?
Aman Gupta is the Co-Founder and CMO of boAt Lifestyle. Currently, you can see him in a television show Shark Tank India as a shark.
What is the net worth of Aman Gupta?
According to the sources, the net worth of Aman Gupta is $95 Million.
Is Aman Gupta Married?
Yes, He is married, His wife's name is Priya Dagar. He has 2 daughters Adaa and Mia Gupta.
Who are Aman Gupta's parents?
Neeraj Gupta is the father and Jyoti Kochar is the mother of Aman.
What is the net worth of Aman Gupta in Indian rupees?
Shark Tank India in Aman Gupta net worth is 712 crore rupees ($95 million).