Digitalization is booming in every industry especially during and after Covid-19 Pandemic. It is necessary to talk about Covid – 19 Pandemic because online learning was not so popular before the Pandemic but now everyone has understood the importance of e-learning platforms, on the other hand, many people feel that offline classes are the best. That's why today we have brought up this debate between Online classes vs offline classes – which is better for you?
Online Classes Vs Offline Classes
In this write-up, we are going to have fair Online classes vs offline classes debate. We will discuss various aspects of online classes vs offline classes pros and cons to figure out the importance and need of both modes. So let's get started.
Comparison between Online Classes And Offline Classes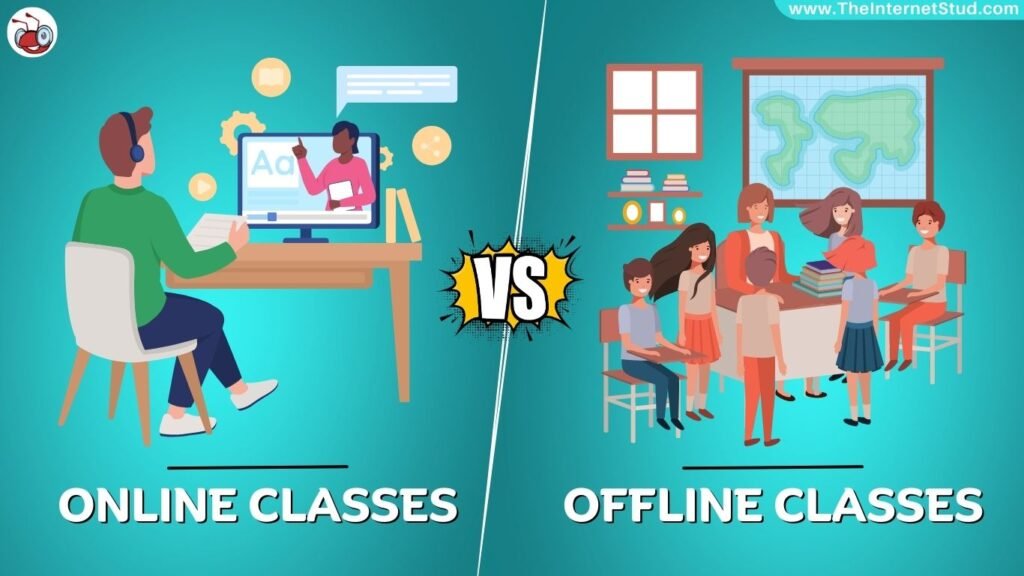 Modes of Learning
Through online classes, students can learn each and every subject of their need online through virtual classes. They do not need to go to school and attend classes physically. There are many options available for online learning like videos or recorded classes, animations, audio, video conferences, live chats, etc.
On the other hand, in offline classes, students have to appear physically to attend offline classes and have to go to school or a coaching center. As study material, they can get physical notes and live interaction with teachers.
Student's Presence
As we just talk, to attend any online class students do not have to be physically present ahead of teachers only their digital presence is enough. Students can attend online classes from anywhere, whether at home or while traveling, or anywhere.
Offline classes require the physical presence of any student or candidate. Students have to be physically present ahead of teachers to get access to the class.
Time & Cost
Online classes are considered the most time and cost-saving as students do not have to go to school or coaching especially, and do not have to suffer from traveling and traffic, students can save both time and money. Apart from that, online classes are less expensive and sometimes free of cost if you take advantage of Platforms like YouTube.
Whilst offline classes are time-consuming and very expensive in comparison to online classes. You have to deal with the traffic in your city and have to pay your traveling expenses as well.
Freedom of Choice
There are so many online educators available who are running their courses digitally, so here you have the freedom of choice to select your favorite educator by purchasing their course.
Whichever institute you join, you will not be allowed to choose your teachers, you will have to study with the teachers of that institute. But yes here you have the freedom to choose your institute.
Flexibility
Flexibility is the best advantage of online classes, as you can watch lectures from anywhere and if you are unable to watch the class immediately, then with the help of the recorded class, you can watch the lecture later.
This flexibility will be absent for offline classes because there will be no recorded data of offline classes, if you miss the lecture once, you will never watch it again.
Focus Issue
This is the worst part of online classes because most of the students lack focus during online classes, and this is because they are in their most comfortable zone. Not necessarily all students face focus issues during online classes but most had this problem.
During offline and physical classes, the very least number of students face focus issues because they are under the eyes of your teacher if you are not able to focus then in some way or another the teacher will help you.
Teacher-Student Interaction
During virtual or online classes, you can not interact with your educator smoothly. Sometimes teacher interact with students through the comment box, but it may have happened that teacher miss your comment and your query remain unsolved. To solve this issue, many e-learning platforms conduct special teacher-student interaction sessions to clear their doubts.
Every offline class allows you to freely interact with your teacher and ask your queries and doubts on the spot. This is the advantage of offline classes in comparison between Online Classes And Offline Classes.
Technical Issues
Whether online classes are easy to access but technical issues are the main villain here. Sometimes it becomes difficult to conduct classes due to a bad network. If there is a problem from the students' side then the recorded classes are still accessible, but if there is a technical problem from the teacher's side then there is a problem.
You will never face any technical issues in the offline classes as there is no hand of technology in the conduction of classes. Offline classes can be conducted smoothly in the presence of teachers and students.
Want To Know: Which Are The Top 10 Educational technology companies in India?
Practical And Applied Knowledge
By learning from online classes one can only get theoretical knowledge and can be deprived of practical knowledge. Some subjects and topics can be learned more efficiently through practically performing them in the lab, whether online classes can give you knowledge of that subject by using different techniques like videos and animations but never give a practical experience which is a very crucial part of learning.
This is the most beneficial part of offline classes whenever need, you can learn the topics practically by performing the procedure in the labs.
Till now, we have discussed Online classes vs offline classes which is better for youand discussed some crucial aspects of Online classes vs offline classes advantages and disadvantages. Now we will see some Online classes vs offline classes pros and cons.
Want To Know: Audiobooks Vs Reading Books – Which is Better For You in 2023?
Online Classes Vs Offline Classes Pros And Cons
E-learning platforms are a crucial part of our education system now as technology is more advanced and more accessible. Students can learn each and every subject by using e-learning platforms. All you need is a mobile phone with a good internet connection.
As we talked about various aspects related to online classes vs offline classes which is better for you, here we are going to share some Online Classes Vs Offline Classes Pros And Cons.
Do You Know: What Is The Difference Between – Rich Vs Wealthy
Online Classes Pros
Due to technology, when the whole world had stopped in a way, even after being at home, everyone was able to do a lot of their work online, and with the help of technology, students were able to continue their studies even while staying at home. So here we are sharing some Online classes pros.
In this online classes vs offline classes debate, it is a big positive point in favor of online classes that students can attend their classes from anywhere, without any physical presence by making a virtual presence at virtual or online classes.
Students can save the extra time and energy of traveling to their educational institutes as they do not need to go there and additionally, they can use this extra time and energy to study more.
Along with time, online classes can also be money for you as you do not have to expend on your travel and additionally, online classes are less expensive than offline ones.
This is one of the best online class pros that students can choose their educator without any tension by purchasing their courses that are available online at a very reasonable price.
You will never miss your lecture even after not attending the live class because somehow you can get the recorded version. This flexibility is available only in the digital world.
Want To Know: Job Vs Business – Which Is Better For You in 2023?
Online Classes Cons
Just like everything has pros, as well as cons, online classes, also have many cons which are given below.
One of the online classes cons is that students can not interact with the real world as they learn everything while seating at home.
Students can get distracted very easily at home, so they might face focus issues while studying in online classes. This is one of the most cost online classes cons.
Sometimes students are unable to query the teacher in the online class due to hesitation, due to which they face difficulty in clearing their doubts.
Sometimes technical issues like network errors or something else can disturb online classes. And it is difficult to attend classes for those who are lacking internet or smartphones.
Students can achieve theoretical knowledge through online classes but can not gain practical knowledge which is very necessary to understand some specific topics.
Students can not participate in extracurricular activities which are the most important part of their learning phase.
Because of online classes, the screen time of students increased and they might face some problems like eye irritation and headaches.
Do You Know: Which Are The Top 10 Toughest Exams In India After 12th in 2023?
Offline Classes Pros
Even before and after the Pandemic, offline classes are running equally efficiently, the benefits of which are more than online classes. So let's see some of the offline classes pros.
Through offline classes students can interact with teachers smoothly and can clear their doubts on the spot, this is one of the best offline classes pros in this battle of online classes vs offline classes pro and cons.
Students are more efficient to focus on during an offline class where a teacher is present ahead of the class really.
Students meet their fellow classmates physically, interact with them, make friends, and build a social network, which is a crucial aspect of every student's life.
There are many subjects and topics that can not be studied without understanding the practical knowledge behind them, so offline classes provide an additional point of practical classes to understand such topics to give you an applied comprehension.
There will be no technical issues while studying in offline class.
And when it comes to digital study materials like videos and presentations, they are also taught in offline classes with the help of projectors.
Read Also: A Complete Guide – How To Become A Judge In India After 12th?
Offline Classes Cons
As much as there are advantages of offline classes, there are some cons too. So here we will look at some offline classes cons in this write-up of online classes vs offline classes advantages and disadvantages.
Offline classes are more time-consuming as candidates have to go to the institute and the schedule of offline classes is also more rigid.
Students have to deal with the traffic of their city to attend classes.
Offline classes are quite expensive as they do only not provide you with theory classes but also offer practical classes, extracurricular activities, annual functions, sports activities, etc.
Read Also: Best Lessons From Chanakya Niti For Students To Read In 2023
Conclusion
The online classes vs offline classes debate successfully ended with Online classes vs offline classes advantages and disadvantages. Both modes of education are right and useful in their own place. It depends on you which mode is perfect to accomplish your dreams online classes vs offline classes.
In this write-up, we have shared a fair comparison between online classes vs offline classes presenting the pros and cons of both modes of learning. It does not matter which mode you have selected but the thing that matters is your dreams and your will. Hope the content was useful and informative enough for you. Thanks for reading.
Read Also: Top 10 Best Self-Help Books To Read In 2023
FAQs
Which is better online classes or offline classes?
Online classes and offline classes both have their own pros and cons, like online classes are less time-consuming, cost-effective, flexible, and many more where as offline classes provide shelter under your teacher, practical knowledge, extracurricular activities, etc. So select any mode according to your need.