The debate between Audiobooks Vs Reading Books is not hidden from anyone. Lots of people are in favor of Audiobooks, and just as many are in favor of Reading a physical book. But which is better for you: Audiobooks Vs Reading Books?
The debate of reading a book vs listening to a book is going to end today as I am sharing detailed insights and my experience with reading and listening. But why should you listen to me? Well, I am a voracious reader, I read a lot of books and listen to a lot of podcasts and books. I observe both experiences too closely and I am sharing the same here.
Audiobooks Vs Reading Books: Type Of Book
We cannot say that an audiobook is better or reading a book is better. Everything depends on the situation. The first thing I would consider in this debate is what type of book you want to read or listen to.
I love reading books on productivity and self-help. With audiobooks, I can't put 100% of my attention on the narrator's voice, I tend to daydream at times, and most of us do the same. So in that case I would choose a physical book instead of an audiobook.
If you prefer to read story-based or fictional books where it does not require your 100% attention, then you can go with audiobooks.

Audiobooks Vs Reading Books: Multitasking
Most audiobook proponents say that you can multitask while listening to a book but cannot multitask while reading a book. This point only makes sense if you are listening to a book that doesn't require your full attention.
To multitask successfully you need to choose a task that doesn't require 100% of your attention like washing dishes and you also need to choose a book that doesn't require 100% of your attention.
If you want to listen to a book that gives you some insight to remember and also want to do a task that requires you to concentrate then either you will learn from that book or complete your task. Both the works cannot be done simultaneously.
Audiobooks Vs Reading Books: Learning
Audiobooks are easier to finish faster than physical books but do you learn the same way as a physical book? I do not think so. As I have already mentioned that I am a voracious reader, I love highlighting my favorite lines in the book, making notes, and writing my thoughts in the blank spaces on the pages. I completely miss this in the audiobooks.
If I had listened to "The 5 AM Club" audiobook, I might not have woken up at 5 in the morning to write this write-up for you. I read this entire book and applied its principles to my life, and now I wake up every morning at 5 am.
If I had listened to the "Can't Hurt Me" audiobook, I may not be able to mention that David Goggins once said, "You have to do your best work when you are the least motivated."
The point is simple when it comes to learning, I go toward a physical book instead of an audiobook. I have listened to many history and fiction audiobooks and this was a great experience.
Audiobooks Vs Reading Books: Portability
Audiobooks have the advantage of being able to complete your favorite book anytime, anywhere. For example, you cannot read a book while standing in line for the bus at the bus stand but you can listen. Audiobooks provide easy access to listeners, whereas a physical book has some limitations such as you cannot read in the dark or while riding a bicycle.
Audiobooks Vs Reading Books: Focus
There is no doubt that the focus is much better when reading a physical book than listening to an audiobook. In the world of TikTok and Reels, we all suffer from short attention span. It is challenging to stay focused while listening to a book, and most of us tend to daydream while listening to a book. Reading a book helps us to stay focused and also enhances our attention span.
Audiobooks Vs Reading Books: Re-reading
I'm not sure how many people do this, but as I mentioned earlier, while reading a self-help or productivity-based book, I take a lot of notes and highlight important lines from the book. Once I finish the entire book, I prefer to reread the highlighted notes as it helps me to retain more knowledge from the book. Unfortunately, this concept is entirely missing from audiobooks.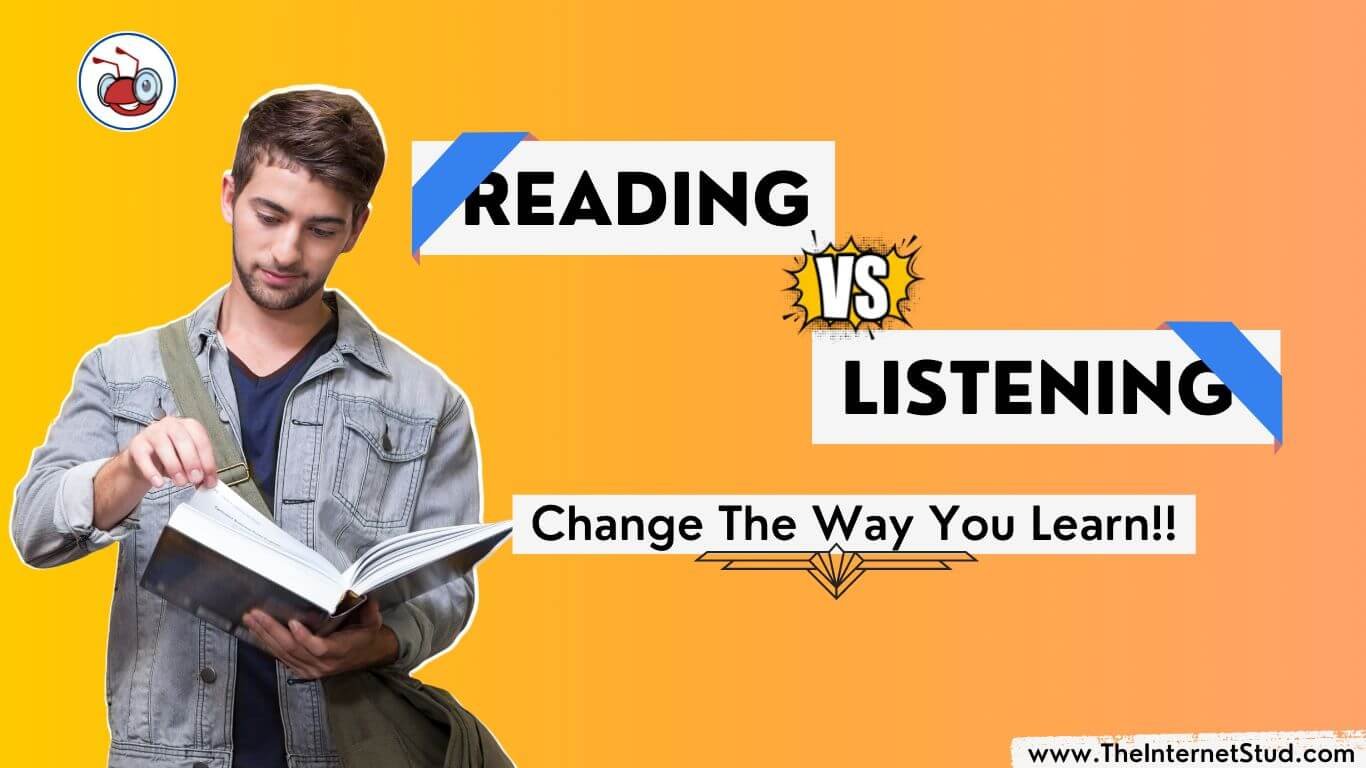 Audiobooks Vs Reading Books: The Choice is Yours!
Read a book or listen to a book, the choice is yours. I just want to put a thought in your mind that your end goal of listening or reading should be fulfilled at the end. The habit of reading books helped me a lot to grow in my career and life as well.
While concluding this write-up I would also like to suggest these three write-ups which will definitely suggest some books which will change your lifestyle.
The Bonus: Reading Books Vs Ebooks
I consider myself a tech lover. I enjoy creating new things on the internet and even make money from it. However, when it comes to reading a book, I always choose a physical book instead of an ebook.
When you read an ebook, you are not really reading a book; you are reading from a screen. It doesn't give the same feeling as reading a physical book. Holding a book, turning the pages, and folding the page where you stopped reading, it's an experience that an ebook can never replicate.
Suggestions
If you want to consume audio content then I want to suggest you start listening to the podcasts. Most podcast shows have One-On-One conversations with different types of legends in each episode. This gives you another way of looking at life. I also want you to check these Top 5 Personality Development Podcasts You Should Start Listening In 2023.
Conclusion
Here I tried to give my 100% to finish the debate of reading vs listening to books. It planted a curiosity in me to know that you love reading or listening to a book. Please comment below to share your opinion and also if I forget to mention anything, it's now your duty to mention it in the comment box.
FAQs
Why books are better than audiobooks?
Although it depends on the situation, but I believe books are better as I can concentrate more on books as compared to audiobooks.
Are reading and audiobooks the same?
Reading and listening to audiobooks has never been the same and never will be. It is best to listen to a book when you do not need to remember and apply anything from the book.