Our country is going to get a new Parliament building if all goes well. On 10 December 2020, PM Narendra Modi laid the foundation stone of the new Parliament House and the estimated cost of the new Parliament House is Rs 971 crore. It is almost 1,000 crore rupees to build a new Parliament Building.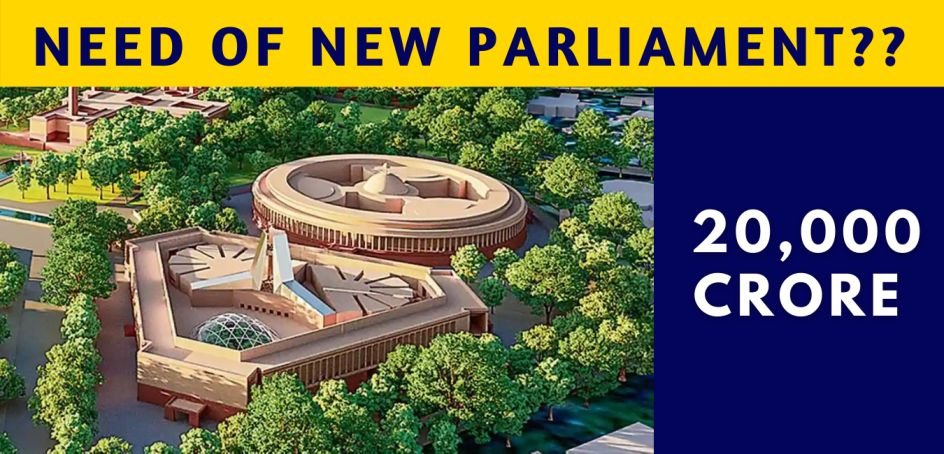 So the biggest question is that What is the necessity of a new Parliament Building? Why people are criticizing this project? Why it is in the Supreme Court? Let me explain everything from the begening.
Key points of New Parliament Building
Central Vista Redevelopment Project
In 2019, the Government of India announced Central Vista Redevelopment Project, An area of Delhi which goes from President House to India Gate that includes North Block, South Block and Parliament House. The government wants to redevelop this entire area. Its blueprint looks like the picture shown below.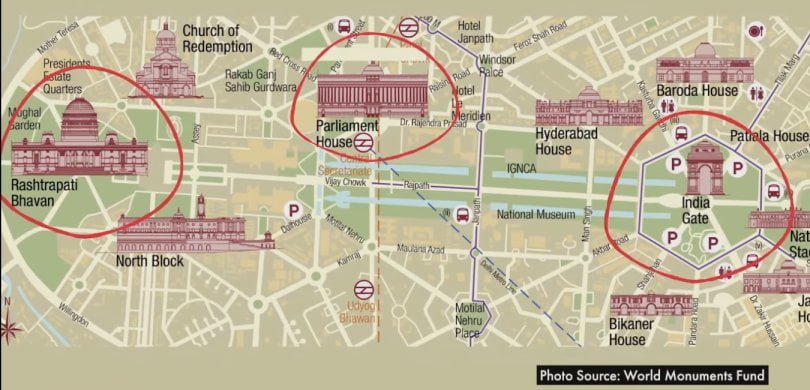 New Parliament Building is one of the main features of this project, but this is not the only feature. This Central Vista Project includes a new Central Secretariat, New PM Residence, Prime Minister Offer (PMO), Vice President Residence, a big park and many more new things, which are to be developed as planned.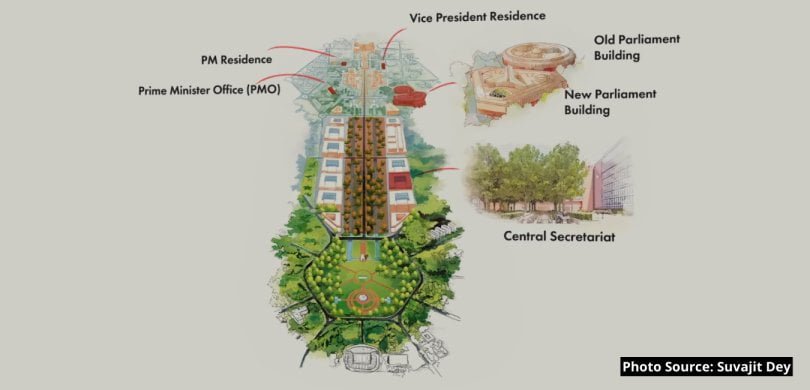 Rs 971 crore is the estimated cost only for the new Parliament building and the estimated cost of this entire Central Vista Project is around Rs 20,000 crore. When PM Modi was laying the foundation stone he said that the New Parliament Building would be the symbol of 'New Atma Nirbhar Bharat'.
New Parliament Building Features
So specifically if we talk about the new Parliament building, it will be situated beside the old Parliament building, it will be in a triangle shape with 4 floors. Three national symbols (The Lotus, The Peacock and The Banyan Tree) will be used in its interior design.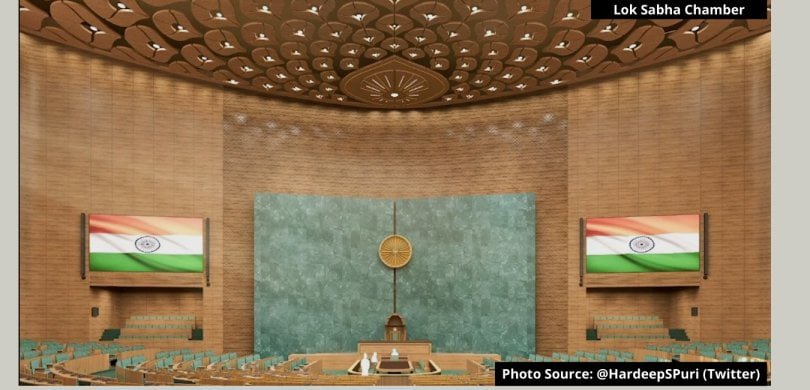 Lok Sabha Chamber's theme would be our national bird – Peacock, Rajya Sabha Chamber's theme would be our national flower – Lotus, and the theme of Central Lounge would be our national tree – Banyan Tree.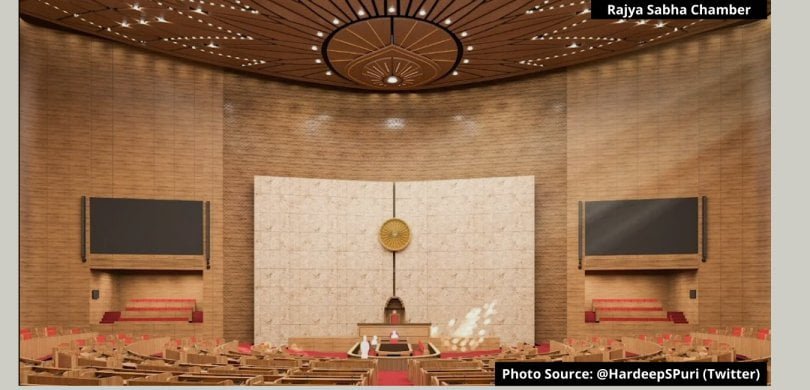 In this new building, modern audio-visual equipment will be used, digital interface will be used to make work paperless, smart displays and biometric systems will be used for voting and new Parliament will also have the Separate Lounge, VIP Lounge and Office Space for MPs.
200 trees will be cut to make this new building but the Government has said that trees will be transplanted to another place and to compensate that, new trees will be planted.
Problem With The Old Parliament Building
Before proceeding, let's talk about the current system; On 12 December 1911, the British government announced that they wanted to move the capital of India from Calcutta to Delhi, which is why the construction of the new parliament building began. It was designed by Edwin Lutyens and Herbert Baker.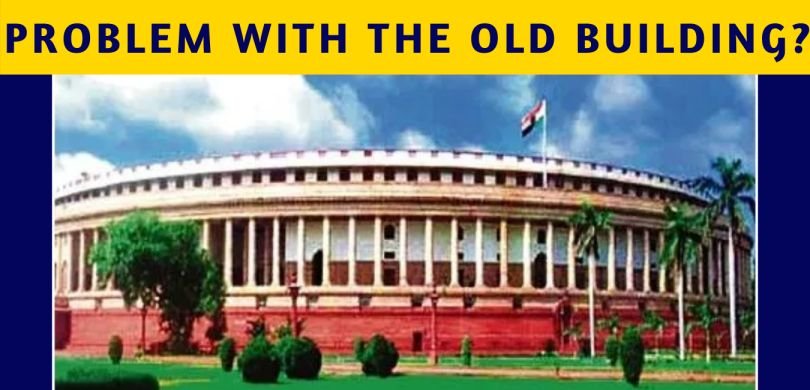 When you see it standing in front of this building, it looks like it is in circular shape, but actually it is divided into three chambers (Lok Sabha, Rajya Sabha and Library) and in the center of it you will find a central hall. The hall which is used for joint seating of members of Lok Sabha and Rajya Sabha. Since then, many changes have been made to this building, but overall everyone believes that it is a historical marvel of architecture.
Why The New Parliament Building
Now let's talk about what was the need for this new Parliament? The first argument put forward is regarding seating capacity. In the existing Parliament, the Lok Sabha has a seating capacity of 550 people.
Now you would say that this is enough because only 543 Lok Sabha MPs are elected by the country. And anyway, only 552 Lok Sabha MPs are permitted by the Indian Constitution. But, when the country became independent, it was decided that the allocation of seats would be revised every 10 years based on the population changes.
When the delimitation of constituencies was taking place it was done with the objective that every constituency should roughly represent an equal number of people, that is, every member of Parliament should roughly represent an equal portion of the population. The constituencies had to be redrawn in consonance with the changing population over time or new seats might be added every ten years so that everyone is equally represented.
That represented a problem particularly in the 1970s when population control was an official objective of the Indian government. The government was encouraging people to bear fewer children, if seats were re-allocated as per the set formula, stated where more children were born, that is, the family was not practised. If this rule is applying, they would be rewarded with more number of constituencies.
To avoid this problem, the number of seats was frozen in 1976 with the aim of revisiting the matter of redrawing constituencies.
This led to a scenario where every constituency does not represent an equal number of people today. This is the reason why it is said that the country needs a new parliament building. The new parliament building is making space for the seating capacity of 888 Lok Sabha MPs.
Conclusion
So what do you think Is this a good decision to increase the seating capacity of Lok Sabha MPs? If this project is stopped then India can save crores of rupees because, if new Parliament building is developed then the government has to pay 888 Lok Sabha MPs and also invest in their security. Now the Supreme Court will decide about this project.
Give your opinion about whether you are supporting this new Parliament House or not? Share this blog on your social media and share knowledge with your friends.