On the bridal look, after the lehenga and make-up, the most important thing becomes the Bridal hairstyles to finish up the bridal look. The chance to become a bride comes only once, so there should be no compromise in lehenga, makeup, jewellery, and bridal hairstyles.
And for that, we are presenting the top 7 most likely and most adopted reception Indian bridal hairstyles below:
The donut bun
The donut bun hairstyle can be defined in the terms of the simplest bridal hairstyle. You will just need two rubber bands with some U shape hairpins to secure the extra hair ends.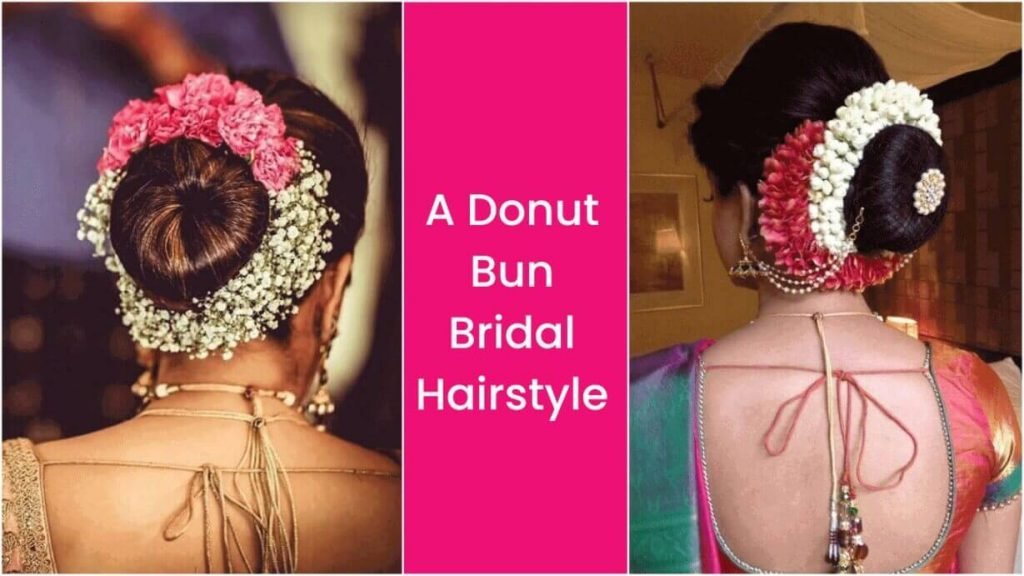 First of all, make a simple ponytail with the bigger rubber band called donut bun maker which is a special kinda spongy rubber. Then spread yours equally then set with another general rubber band. You can twist the rest of the hair ends and then secure them with hairpins. This can be a reception bridal hairstyle as well as a daily hairstyle. You can add something creative at the front to look more stunning, which I have been shared ahead. Still confused? then watch this video.
a classic low bun
The classic low bun is one of the most adopted receptions Indian bridal hairstyle and bridal hairstyle for saree. You can make this bridal hairstyle very easily in a very short time. You just need a rubber band with some hairpins. First of all, make a low ponytail, make a partition from the middle and flip the braid.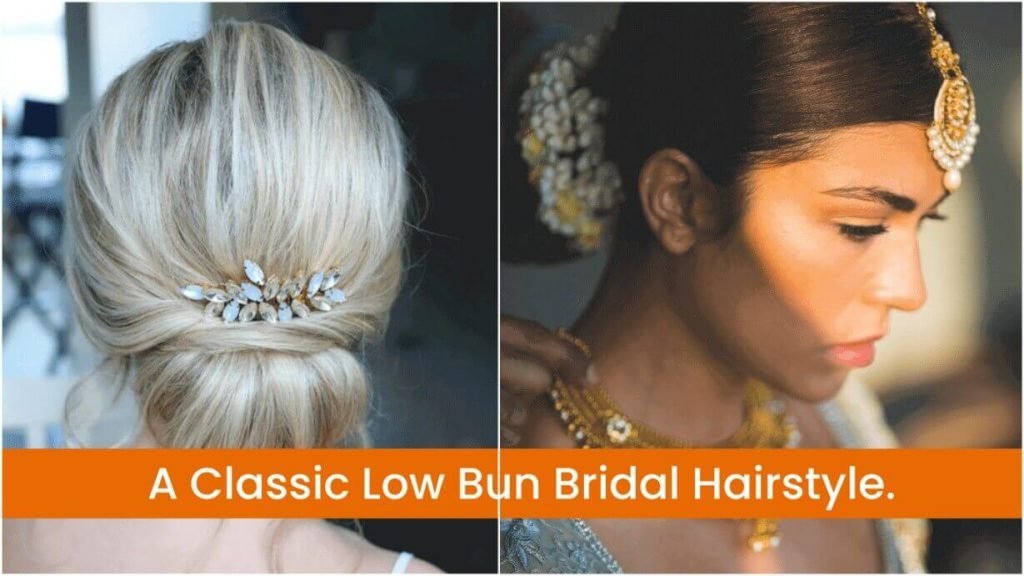 Keep in mind to leave some hair on the front. Refold the free braid hair then set them with the hairpins. Now, take the front hairs, cross them, and set with the hairpins. This cross will add 4 moons to this Cassic Low Bun bridal hairstyle. For more understanding watch this video.
With Naga Jadai: Bridal hairstyle for saree
Naga Jadai hairstyle is one of the best bridal hairstyle for saree. This bridal hairstyle is specifically preferred by South Indian brides. You just need to plait three equal parts of hair length and then decorate the braid with the Naga Jadai.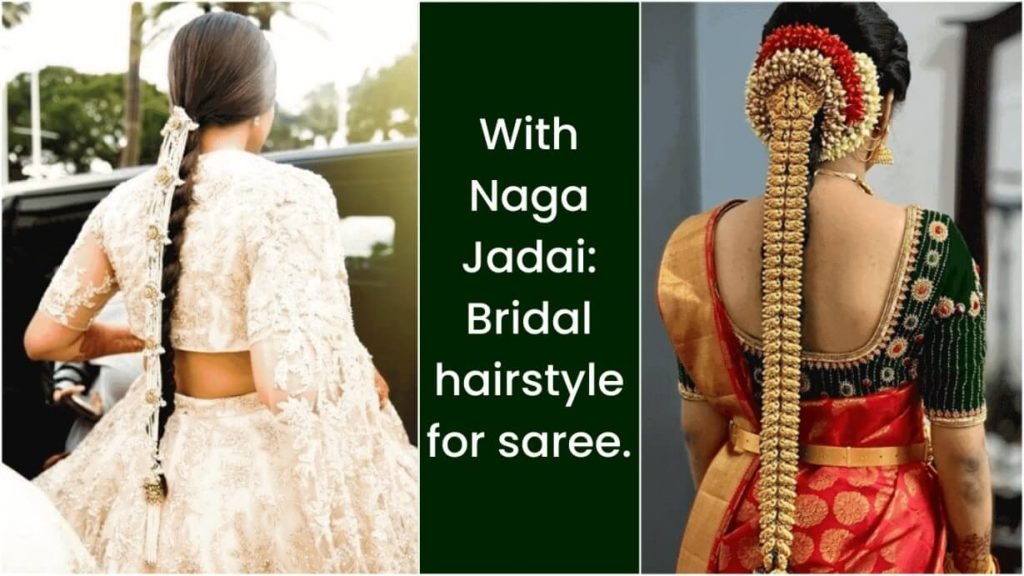 You can also make a bun and then add the Naga Jadai artificial braid tail to it. Check this video to learn better.
With real flowers in the bridal bun
The best way to make your bridal look more and more stunning, add some real flowers to the bun. You can adapt the above-mentioned donut bun or a messy bun then add some real flowers.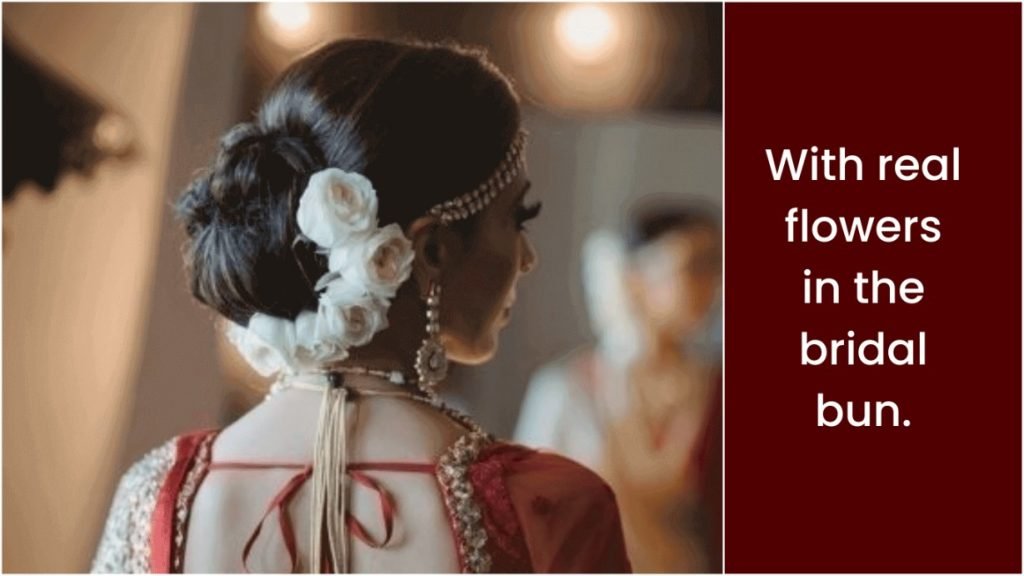 This bridal hairstyle is one of the best Indian bridal hairstyles for lehenga or reception bridal hairstyles. If you are not getting how to attach the real flowers then watch this video.
Traditional braid with a floral extravaganza
A traditional braid is always in fashion. But when it is about a traditional braid with a floral extravaganza it becomes more beautiful on reception Indian bridal hairstyles. To try this wedding Indian bridal hairstyle just plait three equal parts of hair length and then cover the complete braid with the Garland of flowers and your reception bridal. hairstyle is ready.
Cascading waterfall braid
Cascading waterfall braid hairstyle is also one of the best bridal hairstyles. As its name suggests, it looks like a waterfall after it is formed. In appearance, it seems quite confusing and difficult but it is nothing just a smart twisting of hairs.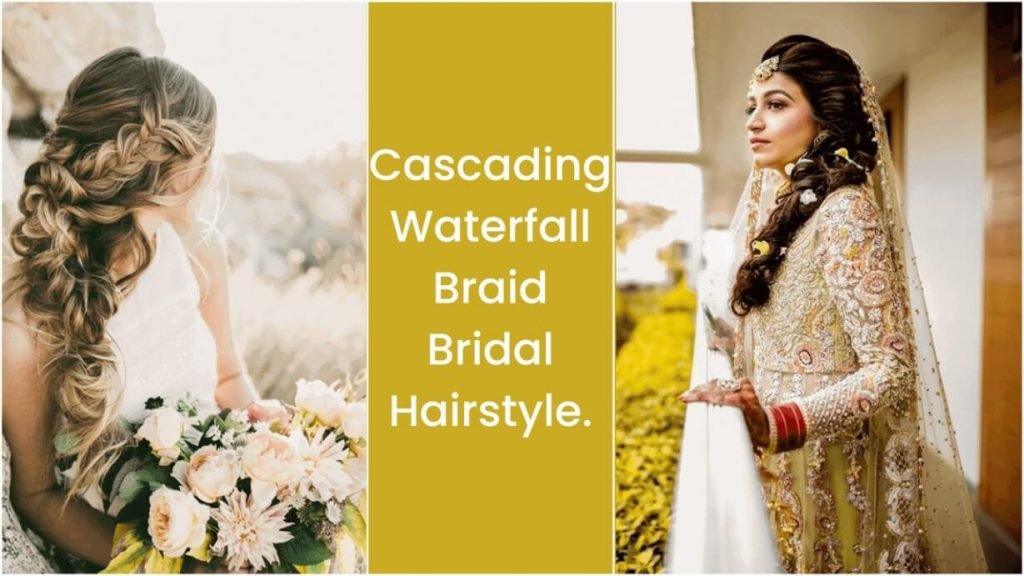 By adding flowers and decoratives to Cascading waterfall braid, you can make it a reception bridal hairstyle and you can also make this hairstyle in college, parties, and such get-togethers by not adding extra decorative.
A messy bun
This is the most popular hairstyle nowadays. A messy bun is suitable for both straight and curly hair but we will specifically talk about the curly hair messy bun hairstyle. To make this hairstyle firstly curl all the hairs and attach them in such a manner they look beautiful.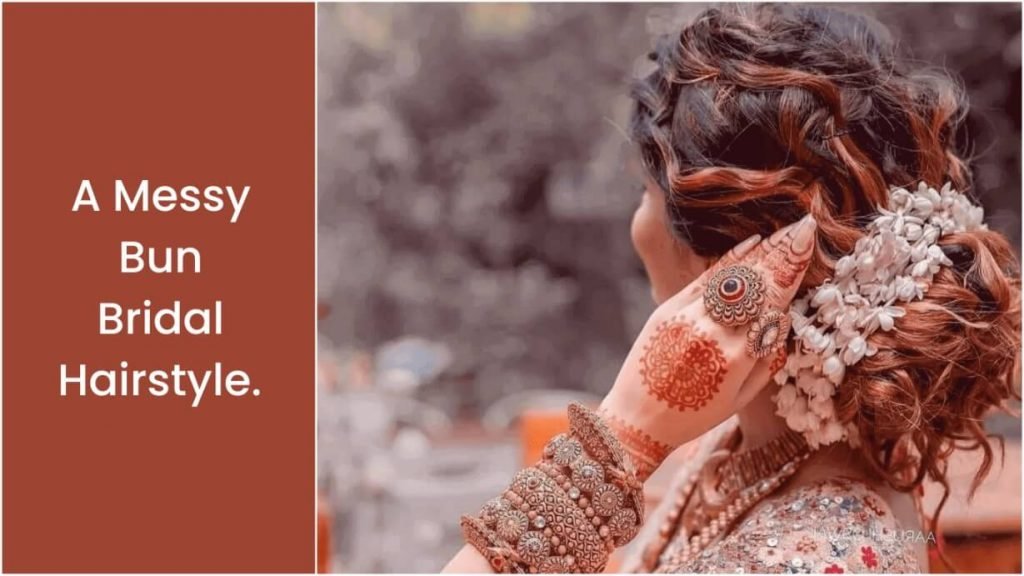 You don't need to follow a specific order to make a messy bun and also don't need very clarity. Even messiness is the main key to this hairstyle. To be more clear about this reception Indian bridal hairstyles check this video.
Fishtail braid covered with Mogras
Mogras give a lot of beauty to the simplest hairstyles. Just make a simple braid, twist a Mogra garland to it with covering the full length of the braid. Without any extra effort, your reception bridal hairstyle will be ready. This fishtail braid covered with Mogras even looks much better as a bridal hairstyle for saree.
These are some most adapted and easy Indian Bridal Hairstyles For Lehenga and bridal hairstyles for saree.
Indian Bridal Hairstyle With Dupatta
Including these hairstyles, a vast category exists for bridal hairstyles. In a wedding getup, another important thing is dupatta. After making any bun you can attach dupatta with hairpins.
Bridal Hairstyle Front Look
While grooming a bride it becomes very important to make the Bridal Hairstyle Front Look more beautiful and attractive. You can twist front hair in so many different ways and also can set a Mang Tika as well as Matha Patti.
Final Words
We have shared some easy and beautiful reception Indian bridal hairstyles and bridal hairstyle for saree. Which bridal hairstyle you like the most? At your wedding reception which bridal hairstyle you are gonna pick up?