Do you know what the actual meaning of patriotism is? If you really want to know, read the complete write-up: The ISRO scientist Nambi Narayanan biography.
Nambi Narayanan Biography
The great Indian scientist Nambi Narayanan was born on 12 December 1941 in Nagercoil in Kerala, India. When he was in college he lost his father and after this loss, Nambi Narayanan's mother also falls sick. He has two sisters also. He married Meena Nambi and the couple has two children, one son, and one daughter. Narayanan's son Shankar Nambi is a businessman and Nambi Narayanan's daughter Geetha Arunan works in Banglore as a Montessori school teacher.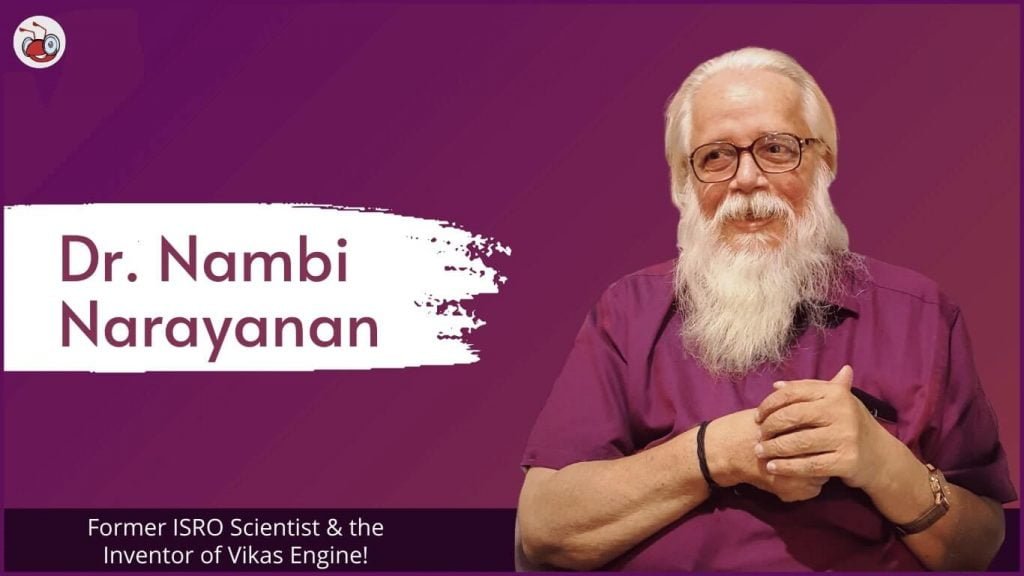 The contributions and controversies related to Nambi Narayanan's life are also shared ahead in the write-up, so keep reading Nambi Narayanan life story of India's one of greatest scientists.
| | |
| --- | --- |
| Full Name | Dr. Nambi Narayanan |
| Birth Date | 12 December 1941 |
| Age | 80 years |
| Birth Place | Nagercoil, Kerala |
| Wife Name | Meena Nambi |
| Son Name | Shankar Nambi |
| Daughter Name | Geetha Arunan |
| School Name | DVD Higher Secondary School, Nagercoil |
| College Name | Thiagarajar College of Engineering, Madurai |
| Qualification | Masters in Chemical Rocket Propulsion from Princeton University |
| Profession | Scientist |
| Inventor | Vikas Engine |
| Award | Padma Bhushan |
| Books | Ormakalude Bhramanapadham,Ready To Fire: How India and I Survived the ISRO Spy Case |
| Film | Rocketry: The Nambi Effect |
Nambi Narayanan Qualification
One of India's great scientists Nambi Narayanan qualifications should not be part of the discussion, he gave too much to our nation. But just for the information that where did such genius minds came from here we have pointed out Nambi Narayanan's qualifications. He has completed his schooling at DVD Higher Secondary School, Nagercoil. Then he pursued B. Tech in Mechanical Engineering from the Thiagarajar College of Engineering, Madurai. Not just this, his educational journey did not end yet.
Nambi Narayanan Career
In 1966 Nambi Narayanan's career started when he approached the Thumba Equatorial Rocket Launching Station of ISRO as a Technical assistant. The very well-known name who is another definition of Indian genius minds, the great Vikram Sarabhai suggests Nambi sir to study at Ivy League Colleges. So later in 1969, Nambi sir went to Princeton University which is also a member of Ivy League Colleges. 
At Princeton University Nambi Narayanan completed his masters under a professor named  Luigi Crocco in chemical rocket propulsion. After the completion of the master's program in Liquid Propulsion Nambi Narayanan get an offer to work at NASA but he refused to work for another country than India and get back to his nation India.
 When he came to India, ISRO scientists were still using solid propellants. Still, he knew that if Indian scientists wanted to achieve the goals they are looking for then they have to invent engines that will be dependent on liquid propulsion technology.
And no doubt after lots of hard work the ISRO scientist, Nambi Narayanan successfully invented Vikas Engine in the first attempt. Nambi Narayanan led 3 teams of 40 scientists while the development of the Vikas Engine was going on.
Vikas Engine is the engine that is used in every PSLV rocket (Polar Satellite Launch Vehicle). So we can proudly say that Nambi Narayanan was not just a genius scientist but also had very good leadership skills.
After the one successful Vikas Engine now Nambi Narayanan was looking for something very precious that was very important for the growth of India but what happened that destroyed all his planning, all his desires he was preparing for? Let's get understand this act of inhumanity performed against a scientist who was just living for his country, to make his country proud and self-dependent. It is very necessary for every Indian to know the story of Nambi Narayanan Sir.
What Happened to Nambi Narayanan
What happened to Nambi Narayanan? Why did he suffer so much? And who is responsible for smashing his career and reputation? Let's try to find out the answers to these questions. Let's start from the beginning to understand Nambi Narayanan life story and about the Nambi Narayanan case that was just a trap for him.
On 30th October 1994, Nambi Narayanan was taken to the Police Station without any notice by the three police officers. After passing one night outside the cabin of the senior officers in the police station Nambi Narayanan was taken to Court. In court, the judge asked him to confess his crime but the twist was that Nambi didn't even know yet what he has done?
At that time he came to know why he had been arrested. ISRO scientist Nambi Narayanan was accused that he has sold some important documents related to Indian Space Technology to Pakistan. Nambi refused to accept all the allegations that were charged against him, so the court sentenced him to 11 days in jail.
This story begins 10 days before Nambi sir was arrested. 2 women are arrested with some drawings of the ISRO rocket engines by the Kerala Police from Thiruvananthapuram. These 2 women were allegedly supposed to be Maldivian spies named Marium Rasheeda and Fauzia Hassan who were selling this drawing to our neighbor country Pakistan. And those days Scientist Nambi Narayanan was working on Cryogenic Technology and he was the head of the Cryogenic Technology Project. 
Nambi Sir's 11 days of custody turned into a month. During this period of time he lost all the dignity and reputation he earned by sacrificing almost his whole life for our country along with his career. Because of all this, not only Nambi Narayanan suffered but his family too. It is said that when Nambi sir's wife used to go to the temple, the pundits refused to give her even prasad. Even the rickshaw drivers refuse her to drop off.
Nambi Sir was suffering in jail and his family suffered outside of the jail. ISRO Scientist Nambi Narayanan was beaten in jail and while sleeping the policers handcuffed him every night. During the interrogation, Nambi Narayanan stood for 30 hours continuously and was beaten very badly by the Kerala Police and IB officers.
In this interrogation, he was also forced to put all those allegations to another ISRO Director. But Nambi Narayanan Sir refused to do so, then again was beaten brutally until he collapsed and needed hospitalization. This is how the inventor of Vikas Engine Dr. Nambi Narayanan was treated just because of a totally baseless and fake case.
Nambi Narayanan gave Lie-Detector tests so many times and each time he passed. Kerala's Intelligence Bureau failed to prove Nambi Narayanan a Traitor, after a month of Nambi Sir's arrest CBI took over this case. After 50 days of police custody, Nambi Narayanan was granted bail in January 1995.
Do you know what happened after CBI took over the Nambi Narayanan case? Nambi Narayanan's case went on for 16 more months. Then let us tell you, CBI found no such evidence that makes sense of this case or any leak of secret documents. So we can consider that the Nambi Narayanan case was fully fabricated. The Chief Judicial Magistrate of Ernakulam also accepted the conclusion of the CBI.
Now we can't even think of how he suffered during that difficult time. The time when everybody just started calling him a traitor and anti-national who sold India for just few money. But nobody thinks once that one who rejected NASA's offer and chose to serve his country India, for only 7300/- per month salary, how can he even think of betraying his country?
Now let's go to those facts that proved Dr. Nambi Narayanan innocent.
Facts That Prove Nambi Narayanan Innocent
First – The accusation of selling secret documents that are the drawings of the ISRO rocket engines was totally non-sense because the scientists were working transparently on the projects. That means what (the technology) our scientists were working on was openly available in the market.
Second – After successfully developing the Vikas Engine ISRO scientists were trying to get the Cryogenic Technology from the Soviet Union but under US pressure this deal never took place. But Nambi Narayanan decided to develop Cryogenic Technology till 1999. Even he had been made the head of the project of developing Cryogenic Technology in India. So as the other fact it is considered that Cryogenic Technology does not even exist yet, so how can Nambi Narayanan sell it? Allegations of selling technology that does not even exist in India at that to the neighboring country Pakistan is just stupid imputation.
Third – It is also said that Pakistan has sent Mohammed Abdus Salam (Pakistan's top nuclear scientist) as a spy to India to receive the documents or something. Against it's nothing but a ridiculous allegation because why would Pakistan send a famous scientist as a spy and not any unknown person.
Fourth – During the investigation CBI visited Nambi Narayanan's house and found that he used to live very simply, a man who received lots of money will never live such a middle-class life. Even the other accused Marium Rasheeda and Fauzia Hassan also did not get any money.
This and some more facts were willfully built up against Dr. Nambi Narayanan which destroyed his career and reputation. But the question comes to one's mind is that why Nambi Narayanan was framed for such a crime he has never done. So let's try to understand this.
Why Nambi Narayanan Was Framed?
Now we got the answer to the question what happened to Nambi Narayanan? As we know the Nambi Narayanan case was totally a trap, so let's try to understand now why Nambi Narayanan was framed?
Those days Nambi Narayanan was the head of the Cryogenic project. And the US already knew if India gets success to develop a Cryogenic Engine then India will get the power to leave NASA behind.
The invention of the Cryogenic Engine will fuel all the missions of ISRO from Interplanetary to Manned missions of Space. So it is said that to stop India from getting such powerful technology, some International forces started working to destroy India's Cryogenic Engine Development Project by destroying ISRO scientist Nambi Narayanan's character and reputation. It is also said that the biggest hand was of the CIA (Central Intelligence Agency).
Nambi Narayanan Supreme Court
In April 2021, the case of Nambi Narayanan took the further probe and gave a verdict in Nambi Narayanan's favor by Justice DK Jain Committee set up by Supreme Court. On 25 June 2021, the supreme court take action against 18 officers of the Kerala Police and Intelligence Bureau of Kerala who were involved in framing ISRO scientist Nambi Narayanan on the recommendation of a CBI officer.
Nambi Narayanan Awards
After the retirement of Dr. Nambi Narayanan in 2001, the National Human Rights Commission ordered the Kerala Government to compensate Dr. Nambi Narayanan for his all losses with 10 lakh rupees.
In 2018, the Supreme Court further awarded him more 50 lakh rupees for his physical and mental torture and damage to his reputation. If you don't know then let us tell you there is no such rule to compensate falsely arrested person in Indian Justice System. This compensation was given by Justice Dipak Mishra along with 2 more justice.
Not only this but in 2020, when the new government of Pinarayi Vijayan came into power, he also awarded Nambi Sir 1.3 crore rupees for all his sufferings.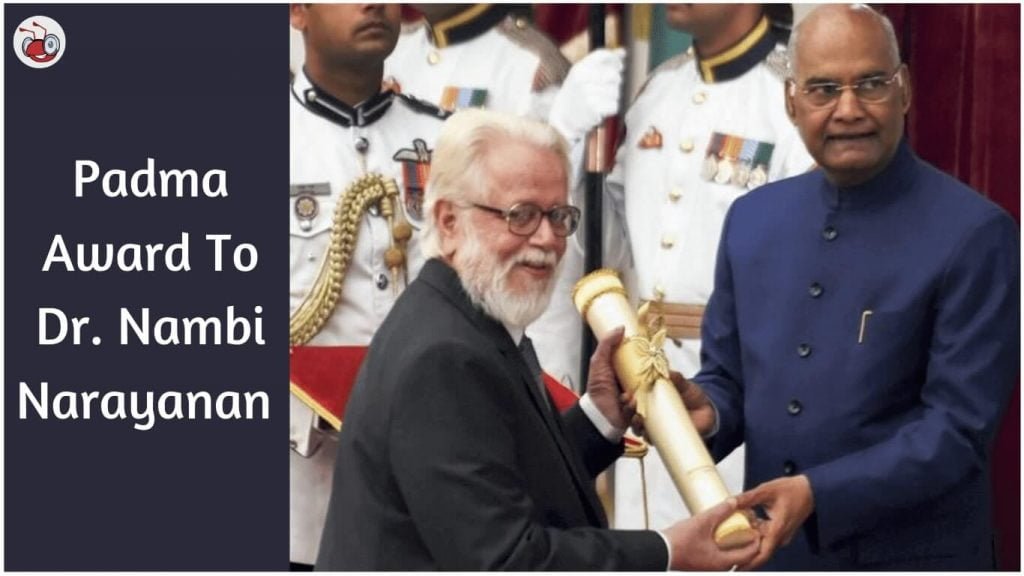 To prove to the world that the ISRO scientist Nambi Narayanan is a real patriot and never betrayed his country, the Government of India decided to award him with the Padma Bhushan award, India's third highest civilian award. India's that time president Ramnath Kovind gave Dr. Nambi Narayanan Padma award.
Nambi Narayanan Interview
After all this mess or can say the trap spread by some anti-national people Nambi Narayanan interview was taken by many news channels and all to share Nambi Narayanan life story. You too should watch one of Nambi Narayanan interviews that will definitely melt your heart and will wet your eyes.
Nambi Narayanan Book
You can also gain lots from Nambi Narayana books. He wrote totally 2 books, those names are given below:
Ormakalude Bhramanapadham – Ormakalude Bhramanapadham is an autobiography by Nambi Narayanan written in the year 2017.
Ready To Fire: How India and I Survived the ISRO Spy Case – this book was published in the year 2018 and of course, it is too written by Nambi Narayana.
Rocketry: The Nambi Effect
Rocketry: The Nambi Effect is a film that is based on Nambi Narayanan life story. This film took 6 years to be on screens but it is officially announced in October 2018. Rocketry: The Nambi Effect is directed, written, and produced by R. Madhavan.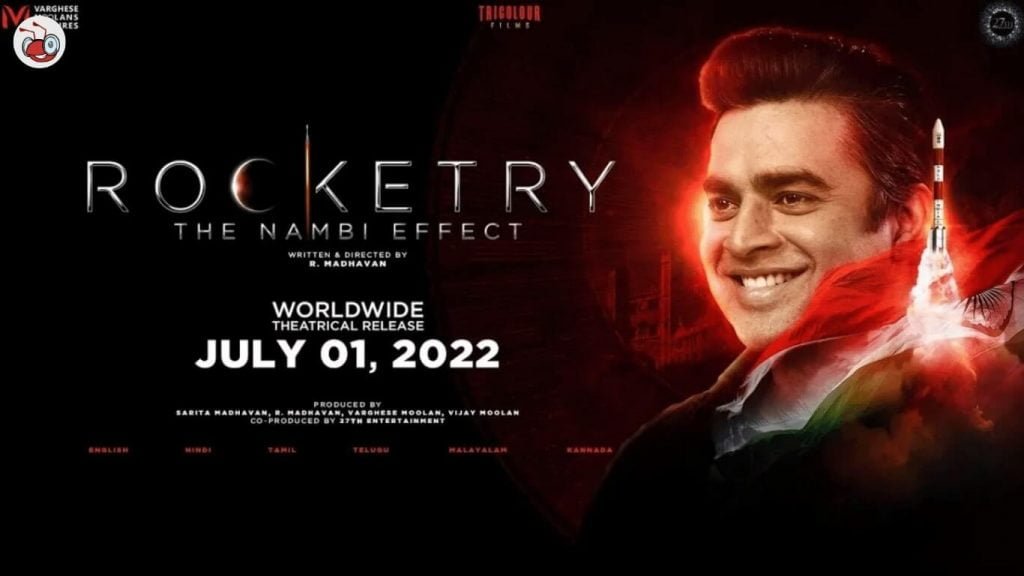 R. Madhvan also played the role of Nambi Sir and everybody just praised him for doing such great work of showing the real struggle of Nambi Sir without any extra drama, even the film does not contain a single song. Rocketry: The Nambi Effect release date in theatres was 1 July. Shah Rukh Khan also appeared in the film Rocketry: The Nambi Effect.
You may also like:
Final Words
We can not imagine that the scientists who should be respected are being treated so rudely because they became part of some predators. As we learned about Nambi Narayanan life story, do you so many ISRO scientists have been attacked by these mysterious people? Even India's top scientist Dr. Vikram Sarabhai was also met with an unnatural death.
How good it would have been if everyone had trusted Nambi sir and he had not been sent to jail. Had Nambi sir been allowed to do his work in peace, the technology to make India's cryogenic engine would have come in 1999 itself which took 15 more years. The last thing that remains to tell is that not only Nambi Sir but one more ISRO scientist Sasikumar was dragged into this case irrelevantly just like Nambi Narayanan by those IB officers who were later punished. The most painful thing is that these 2 brilliant scientist were never given their old work back but given a desk job.
FAQs
How many years Nambi Narayanan was in jail?
Dr. Nambi Narayanan was in jail for about 50 days. However, Nambi Narayanan case went on for years.
What is Nambi Narayanan doing now?
Nambi Narayana and Sasikumar were transferred from Thiruvantapuram and given desk jobs.