After the pandemic people got more aware of germs and microorganisms. A very large number of the population has started using disinfectants and sanitizers in their daily routine.
Little is known about the microbial populations around us. Humans have so far been able to see a small number of microbes under microscopic fields. It considers that the Microorganisms are both a boon and a curse for us i.e. These are beneficial to humans as well as harmful. To deal with harmful microorganisms we have products like Dettol vs Savlon which is better for you to use is the main concept of this write-up.
Popular disinfectant brands that are the two puppets as of this write-up are Dettol vs Savlon. We will see the major difference between Dettol and Savlon, what is the Dettol and Savlon Composition? And which is better for you.
Before bouncing into Dettol vs Savlon, let's have a look at the history and other stuff about Dettol vs Savlon.
Dettol History
Dettol is absolutely known for personal hygiene and household disinfection products such as handwashes, bath soaps, hand sanitizers, shaving cream, antiseptic, bathroom cleaners, kitchen cleaners, etc. Dettol was founded in 1932 in the UK and launched in India in 1933. The manufacturers of the Dettol are owned by a British company named, Reckitt.
Basically, Reckitt is the parent company of Dettol. Reckitt owns 22 more brands including Dettol with a presence in more than 200 countries. Dettol is sold under the name Sagrotan in Germany and before 2002 some products of Dettol were sold out by the brand name Dettox.
Here we are listing all the brands that belong to Reckitt:
Air Wick
Clearasi
Dettol
Enfa
Calgon
Cillit Bang
Durex
Finish Powerball
Gaviscon
Harpic
Lysol
Mucinex
Mortein
Nurofen
Nutramigen
Streptosil
Vanish
Veet
Woolite
Airborne
Neuriva
Move Free
Initially, Dettol introduced antiseptics, and later by using different technologies produced almost all the products needed for personal hygiene as well as household disinfectants. And now Dettol has covered almost the whole market of hygiene and protection from germs.
In 1958, Dettol was first launched in the stores of the UK. Manufacturers continue to evolve technologies and produced a wide range of hygiene care products. The expansion also continued and thus Dettol has now been adopted by millions of people in 124 countries.
Savlon
Savlon is a personal care brand of ITC (Indian Tobacco Company) Limited. Savlon is protecting India for over the last 50 years. Dettol has covered the whole market, in this situation Savlon found out the weak points from the products of Dettol manufactured by Reckitt, some of them are the smell of Dettol products, and the burning sensation by the application on wounds.
Savlon took care of all these points and made such products with a nice smell and by the application of Savlon antiseptics on the wounds, there was no burning sensation.
In 1992, Savlon is acquired by Johanson & Johanson, since then Savlon products are manufactured and sold by Johanson & Johanson in sub-Saharan Africa.
In 2015, Johnson & Johnson sold the Indian rights to the Savlon and Shower to Shower brands to ITC Ltd.
In 2019, UK subsidiary Thornton & Ross of STADA group of Germany acquired UK rights to Savlon from GlaxoSmithKline Consumer Products.
Difference Between Dettol And Savlon
Dettol vs Savlon both provide hygiene care products but still, there are some parameters in which these brands differ from each other like product range, chemical composition, etc.
Here we are presenting Dettol vs Savlon or the difference between Dettol and Savlon, after this comparison may you will get to know which is better for you?
Burning sensation
When you apply Dettol to the wounds there is a burning sensation, whereas there is no burning sensation on an application of Savlon even on wounds. This is the major difference between Dettol and Savlon.
Fragrance
Dettol products carry a weird and signature fragrance whereas Savlon products smell nice.
Product Range
Dettol's products range includes personal hygiene and household disinfectants. Savlon too has the same product portfolio.
Want To Know: Lenskart Vs Titan Eye+ – Which is better for you in 2023?
Chemical Composition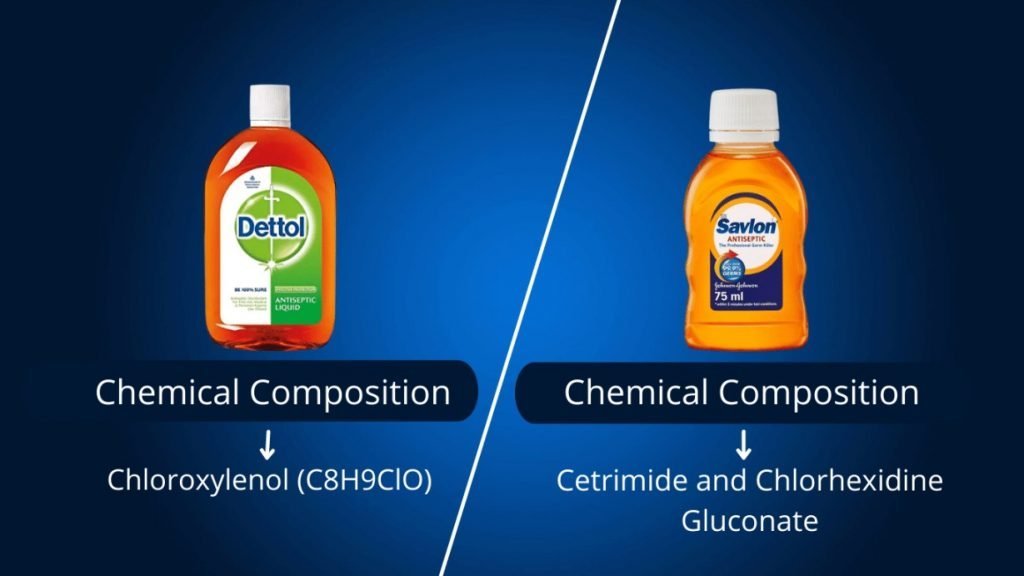 Dettol and Savlon composition: The active chemical ingredient in Dettol's products that is mainly responsible for its antiseptic properties is chloroxylenol (C8H9ClO). In the total mixture of Dettol's liquids 4.8%is chloroxylenol and the rest 95.2% includes pine oil, isopropanol, castor oil, soap, and water. Different chemicals are required to produce different products, such as terpineol, ethyl alcohol, etc.
When we talk about the active ingredient of Savlon products it is cetrimide and chlorhexidine gluconate. Imperial Chemical Industries (ICI) were discovered and developed these chemicals.
Despite Dettol vs Savlon providing almost the same product range but Dettol and Savlon composition is completely different from each other.
Want To Know – Which Dating App Is Best, Shaadi.com Vs Jeevansathi.com Vs Tinder?
Countries of Operation
Dettol is present in about 124 countries but there is no exact data available where Savlon is selling out.
Want To Know: Sugar Cosmetics Vs Lakme – Which Is Better For You At Service?
Taglines
Dettol represents its products by its tagline: "keep the memories, but not the bacteria" whereas Savlon represents its products by its tagline: "Heals without hurting; Make your house a safe house". These are the Dettol and Savlon taglines.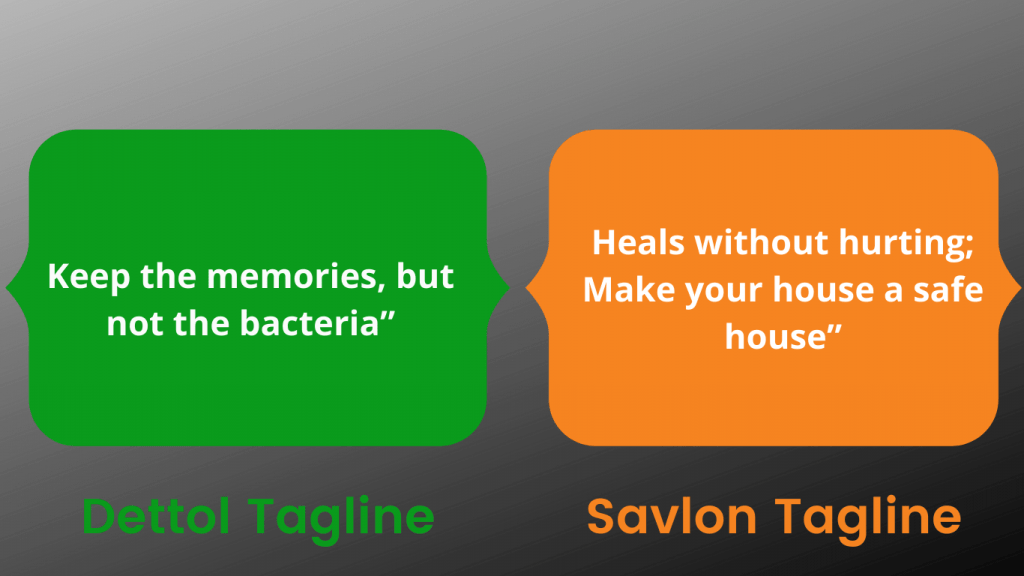 Brand War Between Dettol And Savlon
Dettol has already occupied the whole market, to compete with Dettol, Savlon planned to make such brands, which were absolutely weighed on Dettol.
Savlon adds a beautiful fragrance to its products and makes them free from burning sensations. In response, Dettol set such a mentality of the people by running a campaign, applying antiseptic is causing irritation, which means the wound is healing.
So Savlon adopted other marketing strategies to secure a wide market such as Savlon does not cause irritation on cuts and wounds, so they advertised that its product will be more useful for kids and anyway children get more hurt.
Final Words
To take action for the protection of our family from germs is another kind of care. This care has been made possible because of some brands such as Dettol and Savlon. Both brands provide a wide range of hygiene and disinfectant products. Dettol and Savlon's taglines also indicate to be free from germs.
You must have used these products or may have a little confusion about Dettol vs Savlon which is better for you. Hope this comparison will help you to choose the better one for you and your family as well.
FAQs
Which is the best antiseptic liquid?
Savlon proved to be the best antiseptic liquid because of its painless wound healing properties and better smell than other antiseptics.
Why is Savlon so good?
Savlon does not cause a burning sensation on cuts as well as on wounds and also contains a very good smell. This are enough properties to make Savlon so good.
Can I use Dettol to wash my private part?
Never ever try to wash genital areas with antiseptics or any kind of soaps.
Is Savlon alcohol-based?
Yes, Savlon contains a low amount of alcohol.