We all love to shop online because even in our busy schedules we can easily do online shopping without wasting much time. Whether it is about clothes, footwear, electric gadgets, home decorative products, and many more.
Now even we can buy groceries online from such platforms as Jiomart, Bigbasket, Grofers, OnDoor Dmart, BigBazaar, Reliance Fresh, and many more. The main objective of this write-up is to convey some information, intimations, and statistics about such grocery selling online platforms. Being a consumer, you have the right to know everything about the product or platform of which you are a customer.
In this write-up, we will focus on Jiomart vs BigBasket online grocery platforms. Let's compare both and see which platform is better for you to shop.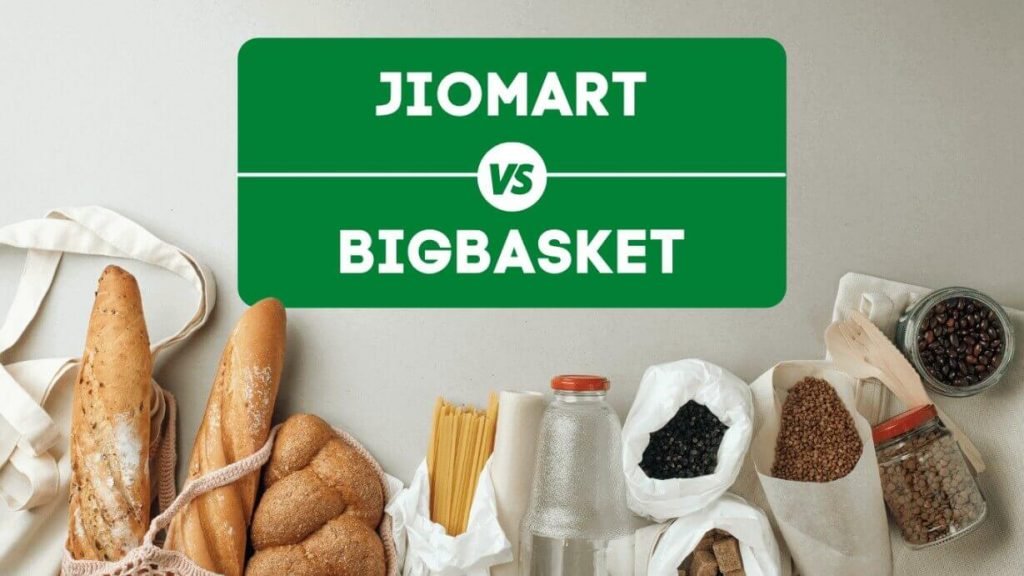 Bigbasket History
Before we jump into the JioMart vs BigBasket comparison, let's have a look at BigBasket's history. BigBasket was founded in the year 2011 by a group of 5 people named Abhinay Chaudhary, V. S. Sudhakar, Hari Menon, Vipul Parekh, and V.S. Ramesh. Big basket is the second venture of the group, before this excluding Abhinay Chaudhary rest four were running Fabmart.com, which was launched by the team in the year 1999.
At Fabmart.com they used to sell books, jewelry, music CDs, and groceries but due to the lack of trust of the general public on the internet Fabmart.com didn't work, so they decided to shift this online venture to offline retail stores with the name Fabmall in the year 2002.
Later in the year 2006 Fabmall was overtaken by the Aditya Birla Group or can say the team sold the Fabmall to the Aditya Birla Group, and they renamed the brand Fabmall to Supermarket.
BigBasket Comeback
They all came back in the year 2011 and established BigBasket.com – an online grocery shopping platform. They raised funds to make it more and more useful and improved it day by day.
As of 2022 BigBasket is selling about 18,000 products and more than 1,000 brands over 44 cities across India. These cities are Indore, Ahmadabad, Gandhinagar, Vijaywada, Kuntur, Mysore, Bangalore, Mumbai, Pune, Chennai, Delhi, Noida, Coimbatore, Kolkata, Lucknow, Kanpur, Gurgaon, Vadodara, Visakhapatnam, Surat, Patna, Nagpur, Chandigarh Tricity, Madurai, Nasik, Vadodara, Jaipur, Bhopal, Ghaziabad, Kochi, Krishna district, Renigunta, Trichy, Allahabad, Kuttak, Amaravathi, Gwalior, Bareilly, Hubli, Rajkot, Davangere, Cuttak, Raipur, and Guwahati.
BigBasket Acquisition
64.3% stake of BigBasket's parent company Supermarket Grocery Supplies Private Limited was acquired by TATA Group for around $1.3 billion in February 2021.
Jiomart history
Before we jump into the JioMart vs BigBasket comparison, let's have a look at JioMart's history. JioMart is the online shopping platform launched by Reliance Private Limited in 2020 with the purpose of making shopping easier in times of pandemics. Initially, Jiomart was launched in a few selected areas of Navi Mumbai, Thane, and Kalyan early in the year 2020. After a month Jiomart was completely launched in more than 200+ cities across India.

The planning for the foundation of Jiomart has been started since 2014-15. In 2019 Mukesh Ambani acquired GRAB which is a logistic company (the commercial company that transports goods to customers) and CSQUARE which serves eCommerce functionality to JIomart. Hence they created a whole infrastructure for the great arrival of Jiomart.
JioMart vs BigBasket comparison
Inventory Management System
BigBasket has its own stores, so there is a need for a middle man to deliver the order which is a quite time taking process, whereas Jiomart involves the small grocery shops, the delivery boy simply picks up the parcel and delivers it to the destination, so there is no need for third parties. This is one of the major points in the JioMart vs BigBasket comparison.
Areas of Operation
Jiomart operates in over 200 cities across India, whereas BigBasket operates in around 44 cities in different states.
Want To Know: Lenskart Vs Titan Eye+ – Which is better for you in 2023?
Delivery Time and Charges
The Inventory Management System of Jiomart is more flexible than BigBasket, hence the time for delivery of products is lesser in Jiomart in comparison to BigBasket. This is one of the major points in the JioMart vs BigBasket comparison.
Taglines
The tagline of Jiomart is "Desh ki Nayi Dukaan" and the tagline of BigBasket is "Har Din Sasta".
Product Range
Both Jiomart and BigBasket provide a wide range of products including groceries, beauty and hygiene care, baby care, households essentials, beverages, snacks, masala, oil, fresh fruits, vegetables, food grains, and many more.
Want To Know: Sugar Cosmetics Vs Lakme – Which Is Better For You At Service?
Membership
Being at a very initial stage Jiomart did not launch any membership yet, whereas BigBasket has a membership with the name bbStar, which costs 299 rupees for 6 months. With this membership, you can get 100 rs. cashback at every order for three months. This is another one of the major points in the JioMart vs BigBasket comparison.
Want To Know – Which Dating App Is Best, Shaadi.com Vs Jeevansathi.com Vs Tinder?
Reviews and Ratings
Jiomart does not have a review and rating system, so sometimes it is quite difficult to purchase any new product, but at Bigbasket you can review products and can rate the products as of your experience, it helps others to purchase that particular product. This is one of the major points in the JioMart vs BigBasket comparison.
Final Words
After a hard time with the pandemic, the online grocery selling businesses became one of the most growing businesses in India. These platforms help many of us to buy essential food grains, groceries, fresh fruits, etc in a very critical situation, hence in one line, we can say that the absolutely it was a very great decision of the owner of this kind of eCommerce platform to make such business entities and solved a very big problem. So here this write-up was all about JioMart vs BigBasket.
Jiomart has carved a niche for itself in the market despite already having so many giant online grocery selling platforms. The main key strategy behind this is the involvement of small grocery shops. The rest of the platforms were kicking out small shopkeepers, whereas JioMart is taking them along and that is its biggest strength.
The session was for Jiomart vs BigBasket but if you have ever been a customer of any of the Online Grocery Platforms, then what was your experience with that particular eCommerce website, and which one do you often use to buy grocery or any other product? So do let us know through your comments.
FAQs
Are JioMart and Reliance Fresh the same?
No, Jiomart is the online shopping platform or a joint venture of Reliance Retails and Jio platforms.
Which is better Jiomart or BigBasket?
It depends on the requirement, If you want fast delivery JioMart is best, If you are someone who checks reviews before buying anything then JioMart doesn't provide any review system so here BigBasket is best. It totally depends on your requirement.
Who acquired BigBasket?
BigBasket is acquired by TATA Group, which holds 64.3% stakes in the BigBasket.
Who is the owner of BigBasket?
Tata Group is the owner of BigBasket with 64.3% of the stake.
Who is the Brand Ambassador of BigBasket?
Shahrukh Khan is the brand ambassador of BigBasket.